Chicken
Chicken is probably the most popular meat of all. With such a large variety of ways to prepare chicken and the fact that it is light, versatile, low in calories, healthy and delicious, its popularity is understandable. As shown in the list of chicken recipes below, chicken can be served in an endless variety of ways, such as chicken with sauces, chicken pasta dishes, chicken casseroles,
chicken curry, chicken enchiladas, Asian chicken dishes, chicken soups, chicken lettuce wraps, chicken salads, and the list goes on and on! Cooking methods for chicken can also vary, such as roasting or baking chicken, grilling chicken, frying chicken, deep frying chicken and stir-frying chicken - each cooking method producing its own unique texture and flavor. Whether you're searching for a recipe for fried chicken, baked chicken, grilled chicken, slow-cooker or any other cooking method for chicken, you can't go wrong. This page lists recipes for chicken dishes as well as chicken salads. If you're specifically looking for salad recipes, you'll find chicken salads and more on the
Salads
page. If you're browsing for soup recipes the
Soups and Stews
page has a variety of chicken soup recipes as well as plenty of other soup recipes. Most recipes you'll find on this page were made with skinless boneless chicken breast meat, though if you prefer dark chicken meat, you can certainly use dark meat instead of light (or a combination of both).
Chicken Recipes ▼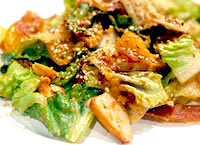 This
Chinese Chicken Salad recipe
features lettuce greens, slices of chicken breast, mandarin oranges and crispy wonton strips tossed with a delicious and tangy Asian dressing made with a blended mixture of peanut butter, olive or other oil, hoisin sauce, wine vinegar, chili garlic sauce, garlic powder, honey and pepper. This salad is refreshing and colorful, and entertains a variety of textures that will be enjoyed to the last bite!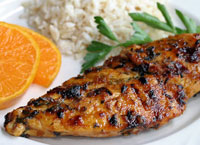 Chipotle Honey Tangerine Glazed Chicken
is a tangy and delicious grilled chicken recipe with refreshing tangerine flavor and just the right blend of chipotle and honey. Chicken breasts are first soaked in a flavorful marinade made with all fresh ingredients. After the chicken has bathed in this fresh marinade, it is basted during the last few minutes on the grill with a spectacular glaze.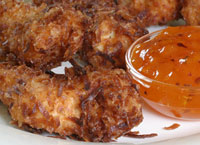 Coconut Crusted Chicken with Apricot Dipping Sauce
features small strips of chicken breast that are lightly coated with corn starch, dipped in frothy egg whites, then rolled in flaked sweetened coconut and fried until golden and crispy. The crispy coconut coated chicken strips are served with a mildly spicy apricot dipping sauce made with apricot preserves, red pepper flakes and red wine vinegar.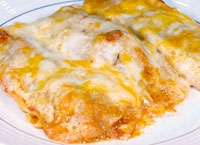 Creamy Chicken Enchiladas
have the festive flavor of traditional chicken enchiladas that combine tomato sauce, chili powder, oregano, onion and garlic, yet have creamier texture with the addition of sour cream and a chicken-flavored cream sauce that's poured over the enchiladas just before baking. These enchiladas can be made with corn or flour tortillas, and are delicious either way.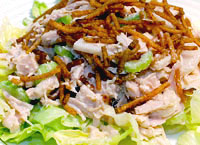 Crispy Chicken Salad
is made with tender chunks of chicken breast, thinly sliced celery, sliced water chestnuts and crispy chow mein noodles. This light salad is then mixed with a creamy salad dressing made with mayonnaise, a hint of Worcestershire sauce and a dash of onion powder and served over a bed of crisp iceberg lettuce leaves. Crispy chow mein noodles are baked with butter and Worcestershire sauce and sprinkled on top.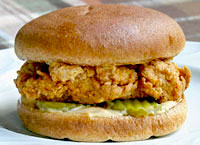 In less than 15 minutes, you can easily make your own hot and fresh
Crispy Chicken Sandwich
at home! This
Crispy Chicken Sandwich recipe
features a seasoned chicken breast that has been dipped in an egg and milk wash, then coated with a seasoned flour and cornmeal mixture. The chicken breast is fried until golden and crispy and placed in a bun and topped with a killer smoky sauce and sliced dill pickle chips.