Chicken
Chicken is probably the most popular meat of all. With such a large variety of ways to prepare chicken and the fact that it is light, versatile, low in calories, healthy and delicious, its popularity is understandable. As shown in the list of chicken recipes below, chicken can be served in an endless variety of ways, such as chicken with sauces, chicken pasta dishes, chicken casseroles,
chicken curry, chicken enchiladas, Asian chicken dishes, chicken soups, chicken lettuce wraps, chicken salads, and the list goes on and on! Cooking methods for chicken can also vary, such as roasting or baking chicken, grilling chicken, frying chicken, deep frying chicken and stir-frying chicken - each cooking method producing its own unique texture and flavor. Whether you're searching for a recipe for fried chicken, baked chicken, grilled chicken, slow-cooker or any other cooking method for chicken, you can't go wrong. This page lists recipes for chicken dishes as well as chicken salads. If you're specifically looking for salad recipes, you'll find chicken salads and more on the
Salads
page. If you're browsing for soup recipes the
Soups and Stews
page has a variety of chicken soup recipes as well as plenty of other soup recipes. Most recipes you'll find on this page were made with skinless boneless chicken breast meat, though if you prefer dark chicken meat, you can certainly use dark meat instead of light (or a combination of both).
Chicken Recipes ▼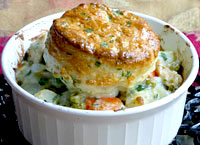 This
chicken pot pie recipe
comes with a homemade biscuit recipe that cooks large biscuits right on top of your pie mixture, turning them golden and flaky with a nice glisten that comes from brushing them with an egg wash before baking.
Chicken Pot Pie with Biscuits
features chicken pieces, potatoes, carrots, celery, peas, onions and parsley in a creamy sauce made with chicken stock and a roux mixed with heavy cream.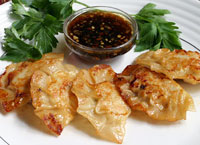 Chicken Pot Stickers
(also referred to as
Chinese Dumplings, Gyoza or Jiaozi
) feature wonton wrappers (or Gyoza wrappers) filled with a pureed mixture of chicken breast, garlic, green onions, water chestnuts, fresh ginger root and Napa cabbage and an egg to help hold the mixture together. This recipe also includes a delicious tangy Asian dipping sauce made with soy sauce, rice vinegar and an assortment of spices.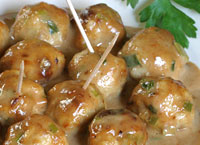 These chicken meatballs are healthy and delicious!
Chicken Satay Meatballs with Peanut Sauce
are made with shredded chicken breast, diced green onions, garlic, soy sauce, fresh bread crumbs and egg, and are baked in the oven. The meatballs are served with a fabulous sauce made with coconut milk, peanut butter, lime juice, brown sugar, fish or soy sauce, rice wine vinegar, and a touch of cayenne. Great as appetizers or a main course.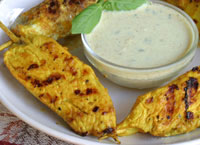 This
healthy chicken satay recipe
comes with a fresh and mildly tangy dipping sauce made with coconut milk and coconut cream, along with some curry paste, fresh ginger and fish sauce, as well as green chiles and fresh basil. The chicken skewers are marinated in a tangy and delicious marinade before grilling, creating the perfect flavor compliment to the Coconut Curry Sauce. This chicken dish is perfect as a main course or appetizer!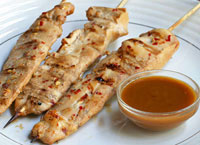 Chicken Satay with Peanut Sauce
is an easy and fun appetizer recipe to make that only takes a few minutes to cook on the grill. Tender thin strips of chicken breast are marinated in a sauce made with soy sauce, lime juice, fresh garlic, fresh ginger root and red pepper flakes. The marinated chicken strips are then pierced with wooden skewers and placed on the grill until they turn a nice golden brown, then served with a tasty peanut sauce.
Chicken Strips with Honey Mustard Sauce
is a quick and easy dish loved by all ages. Little strips of chicken breast are coated with a seasoned flour mixture, then fried to a golden brown. A honey mustard dipping sauce made with a simple combination of honey and Dijon mustard is served with the chicken, making this finger food not only tasty, but fun! This dish is great for parties, gatherings and potlucks as a main dish or hot appetizer.