Chicken
Chicken is probably the most popular meat of all. With such a large variety of ways to prepare chicken and the fact that it is light, versatile, low in calories, healthy and delicious, its popularity is understandable. As shown in the list of chicken recipes below, chicken can be served in an endless variety of ways, such as chicken with sauces, chicken pasta dishes, chicken casseroles,
chicken curry, chicken enchiladas, Asian chicken dishes, chicken soups, chicken lettuce wraps, chicken salads, and the list goes on and on! Cooking methods for chicken can also vary, such as roasting or baking chicken, grilling chicken, frying chicken, deep frying chicken and stir-frying chicken - each cooking method producing its own unique texture and flavor. Whether you're searching for a recipe for fried chicken, baked chicken, grilled chicken, slow-cooker or any other cooking method for chicken, you can't go wrong. This page lists recipes for chicken dishes as well as chicken salads. If you're specifically looking for salad recipes, you'll find chicken salads and more on the
Salads
page. If you're browsing for soup recipes the
Soups and Stews
page has a variety of chicken soup recipes as well as plenty of other soup recipes. Most recipes you'll find on this page were made with skinless boneless chicken breast meat, though if you prefer dark chicken meat, you can certainly use dark meat instead of light (or a combination of both).
Chicken Recipes ▼
Chicken Linguine with Chili Herb Salsa
can be served warm or chilled, and is a great chicken and pasta dish to serve for lunch or dinner. This recipe features chicken breast chunks and a colorful salsa served over linguine noodles cooked al dente, then topped with freshly grated Parmesan cheese. The salsa is made with tomatoes, onions, garlic, black olives, three fresh herbs and three types of mild chili peppers. Very festive!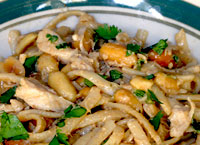 Chicken Linguine with Spicy Peanut Sauce
is a quick and easy pasta recipe that caters to all ages. Linguine noodles are cooked, then combined with chunks of chicken breast, salted peanuts and sliced green onions. These combined ingredients are then tossed with a delicious peanut sauce made with peanut butter and a variety of Asian ingredients that creates the perfect blend of spice, tanginess and robust flavor!
Chicken Noodle Salad with Spicy Peanut Dressing
is a colorful salad with distinctively vibrant flavor! Chunks of chicken breast, linguine pasta and thinly-sliced orange sweet bell peppers are tossed with a peanut dressing that has just the right amount of spice and tanginess. The dressing is made with peanut butter, rice vinegar, soy sauce, sesame oil, fresh ginger root, cayenne pepper and a little sugar, and brings this salad to life!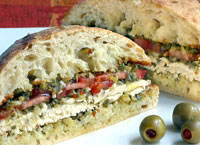 Chicken Panini Tapenade
has amazing flavors that are likely like no other chicken sandwich you have ever tasted! This
chicken panini recipe
features thin slices of roasted lemon and garlic-marinated chicken breasts and thinly sliced tomatoes in Italian-style rolls generously spread with a salsa made of finely chopped green olives, capers, garlic and lemon zest, combined with freshly squeezed lemon juice and olive oil.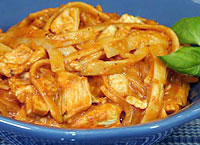 Chicken Paprika Fettuccine
is a color-rich and delicious pasta dish featuring the flavors of fresh basil leaves and paprika. This easy pasta recipe combines thin slices of chicken breast, fettuccine noodles and thinly sliced sautéed onions (optional) in a delightful sauce made with a seasoned flour base of paprika, fresh basil and chicken broth and a generous helping of sour cream, giving it a wonderful creamy texture.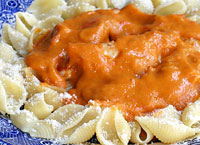 Chicken Peperonata
is a delightful chicken recipe consisting of pasta, chicken breast and a delicious Peperonata Sauce. The Peperonata Sauce is made with a combination of sautéed red and green sweet bell peppers, skinned tomatoes, onions, garlic and fresh basil, and is pureed into a creamy consistency that beautifully drapes over the chicken and pasta, giving it vibrant color.