Chicken
Chicken is probably the most popular meat of all. With such a large variety of ways to prepare chicken and the fact that it is light, versatile, low in calories, healthy and delicious, its popularity is understandable. As shown in the list of chicken recipes below, chicken can be served in an endless variety of ways, such as chicken with sauces, chicken pasta dishes, chicken casseroles,
chicken curry, chicken enchiladas, Asian chicken dishes, chicken soups, chicken lettuce wraps, chicken salads, and the list goes on and on! Cooking methods for chicken can also vary, such as roasting or baking chicken, grilling chicken, frying chicken, deep frying chicken and stir-frying chicken - each cooking method producing its own unique texture and flavor. Whether you're searching for a recipe for fried chicken, baked chicken, grilled chicken, slow-cooker or any other cooking method for chicken, you can't go wrong. This page lists recipes for chicken dishes as well as chicken salads. If you're specifically looking for salad recipes, you'll find chicken salads and more on the
Salads
page. If you're browsing for soup recipes the
Soups and Stews
page has a variety of chicken soup recipes as well as plenty of other soup recipes. Most recipes you'll find on this page were made with skinless boneless chicken breast meat, though if you prefer dark chicken meat, you can certainly use dark meat instead of light (or a combination of both).
Chicken Recipes ▼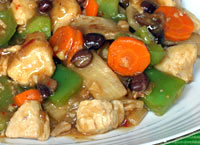 Hot and Sour Chicken
is a very tasty dish that will wake up your taste buds! This stir-fry recipe features bite-size chunks of chicken breast that are briefly marinated in a tangy sauce, then stir-fried with green bell pepper, sliced carrots, bamboo shoots, black beans, garlic and ginger. These ingredients come to life with the addition of a tangy sauce made with chicken broth, white wine vinegar, soy sauce, black pepper and red pepper flakes.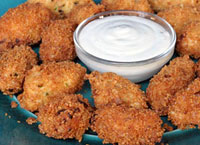 This
Panko Chicken Nuggets recipe
offers a pleasant change from traditional chicken nuggets. Rather than using solid pieces of chicken, this recipe combines small shredded pieces of chicken with other ingredients, giving them added flavor and a wonderful texture. The ingredients are formed (much like meatballs) into bite-size oblong shapes, dipped in egg, then coated with panko bread crumbs, giving them a crispy outer crust.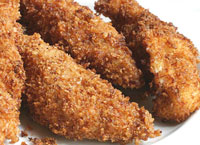 This
Panko Fried Chicken recipe
is similar to other popular fried chicken recipes, but rather than traditional bread crumbs, seasoned panko bread crumbs are used, which gives them the kind of crispy crunch that only panko bread crumbs can deliver! Panko bread crumbs are light and flaky, and add great texture to this easy fried chicken recipe.
Panko Fried Chicken
is great alone or served with any number of dipping sauces.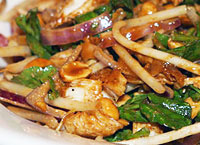 You won't find any ordinary salad ingredients in this chicken salad recipe!
Peanut Butter Chicken Salad
features shredded chunks of chicken breast, bean sprouts, fresh watercress, thinly sliced red onion and peanuts tossed with an Asian-flavored peanut butter dressing that gives this salad outstanding and distinct flavor. This is a great salad for entertaining friends or for treating yourself to an amazingly tasty lunch or dinner!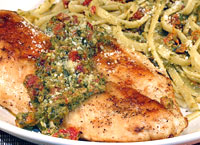 Pesto Chicken Linguine with Sun-Dried Tomatoes
takes about 15 minutes cooking time with minimal preparation, and produces an elegant, healthy and satisfying dish that caters to all ages. Photo shows this chicken pesto recipe with the chicken breast and linguine served side-by-side, though the chicken can also be cut it into cubes or thin bite-size slices and tossed with the linguine, turning this chicken dish into a fabulous pasta dish!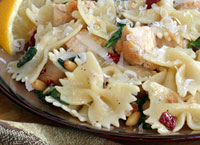 It's nice to know there are healthy pasta recipes that aren't over-loaded with calories! This light and healthy pasta dish is freshly flavorful and can be served warm or chilled.
Pesto Chicken Pasta
features bow tie pasta combined with an easy pesto sauce featuring fresh basil leaves, diced sun-dried tomatoes, minced garlic and pine nuts. Drizzle with some lemon juice and top with freshly grated Parmesan cheese.for the perfect final touch!