Chicken
Chicken is probably the most popular meat of all. With such a large variety of ways to prepare chicken and the fact that it is light, versatile, low in calories, healthy and delicious, its popularity is understandable. As shown in the list of chicken recipes below, chicken can be served in an endless variety of ways, such as chicken with sauces, chicken pasta dishes, chicken casseroles,
chicken curry, chicken enchiladas, Asian chicken dishes, chicken soups, chicken lettuce wraps, chicken salads, and the list goes on and on! Cooking methods for chicken can also vary, such as roasting or baking chicken, grilling chicken, frying chicken, deep frying chicken and stir-frying chicken - each cooking method producing its own unique texture and flavor. Whether you're searching for a recipe for fried chicken, baked chicken, grilled chicken, slow-cooker or any other cooking method for chicken, you can't go wrong. This page lists recipes for chicken dishes as well as chicken salads. If you're specifically looking for salad recipes, you'll find chicken salads and more on the
Salads
page. If you're browsing for soup recipes the
Soups and Stews
page has a variety of chicken soup recipes as well as plenty of other soup recipes. Most recipes you'll find on this page were made with skinless boneless chicken breast meat, though if you prefer dark chicken meat, you can certainly use dark meat instead of light (or a combination of both.
Chicken Recipes ▼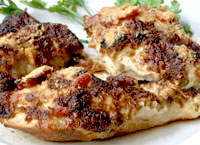 Bacon Parmesan Chicken
is an extremely easy chicken recipe that produces fabulous flavor. This simple chicken dish features boneless, skinless chicken breasts that are placed in a casserole dish, slathered with with Dijon mustard, then topped with teriyaki sauce, crumbled cooked bacon and Parmesan cheese. That's it! The chicken breasts are then are baked for just 30 minutes, until the top turns brown and crispy.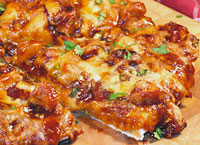 For those of you who are lovers of everything barbeque, this
BBQ Chicken Pizza recipe
is for you! All you need for this tasty pizza is a bottle of your favorite smoky barbeque sauce, some cooked chicken, mozzarella and smoky cheddar cheese, red and green onions, fresh cilantro and a few items from your pantry. This recipe also comes with an easy homemade pizza dough recipe if you'd like to make your own.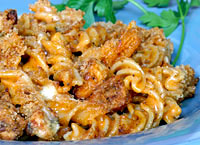 If you enjoy sitting down to a plate of hot and tangy Buffalo wings with a side of blue cheese dip, and likewise enjoy an occasional plate of creamy, hot and steamy macaroni and cheese, you now can enjoy all these flavors together in this
Buffalo Mac and Cheese recipe
! This pasta recipe features chunks of seasoned chicken breast, fusilli pasta, cheddar cheese, crumbled blue cheese and diced celery in a tangy creamy sauce.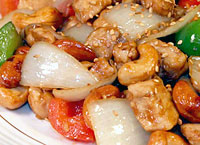 Cashew Chicken
is fresh, light and healthy, and stir-fries in just minutes. The chicken is cooked until perfectly tender and the vegetables are stir-fried with some minced fresh ginger root until crisp-tender. The cashews are also quickly stir-fried, tenderizing them and giving them a toasty brown color. This colorful mixture is then quickly cooked with a mild Asian sauce that adds just the right amount of flavor to this healthy chicken stir-fry dish.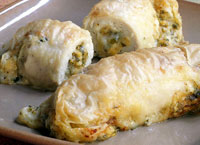 This
Cheese-Stuffed Chicken Breasts
recipe features seasoned chicken breasts that are pounded down to a tender 1/4-inch thickness, then placed on top of a few sheets of phyllo dough (paper-thin pastry). A mixture of grated Monterey jack cheese and cheddar cheese along with some fresh herbs are rolled up into the breasts and phyllo dough. Once baked, the phyllo dough becomes light and crispy and the inside oozes with cheesy flavor!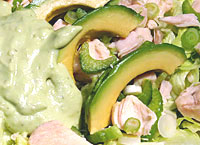 This
Chicken and Avocado Salad recipe
is fresh and satisfying, and features a pretty variety of green colors. This delicious salad is made with chicken breast chunks, thinly sliced celery and green onions in a bed of crispy iceberg lettuce. It is then topped with a delightful light and creamy avocado dressing that's flavored with lemon juice and fresh dill. Surprisingly, avocado dressing served with an avocado salad is the perfect combo!