Bacon Parmesan Chicken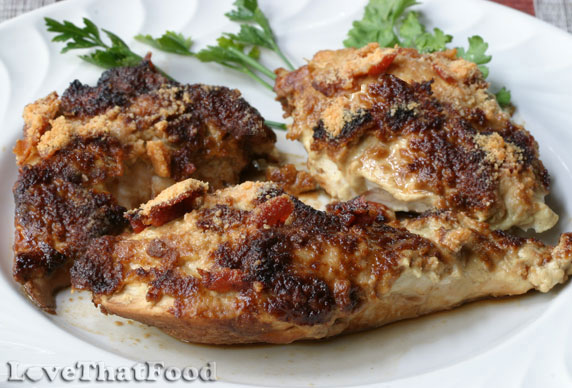 Tips:
Be sure to use a thickened and sweet teriyaki glaze rather than the thin liquid unsweetened teriyaki marinade and sauce, as the sweetened glazes is what gives this chicken dish its great flavor!
Bacon Parmesan Chicken is an extremely easy baked chicken recipe that produces uniquely fabulous flavor that will surprise you. This simple chicken dish features boneless, skinless chicken breasts that are placed in a casserole dish, slathered with with Dijon mustard, then topped with a sweetened teriyaki glaze (often used for dipping), crumbled cooked bacon and Parmesan cheese. That's it!
The chicken breasts are then are baked for just 30 minutes, until the top turns brown and crispy.
Perhaps what gives Baked Parmesan Chicken its wonderful and unsuspecting flavor is how wonderfully the Dijon mustard and sweetened teriyaki sauce blend, creating a tangy yet mildly sweet flavor. The crisp bacon and Parmesan cheese give this dish the perfect crispy cheesy topping. When shopping for the teriyaki sauce or glaze, be sure to select a sweetened version, such as bottles labled "Teriyaki Baste and Glaze" or sauces with pineapple or other sweeteners added, as this is what gives this chicken dish its great flavor. Avoid the teriyaki sauces labeled "Teriyaki Marinade and Sauce," as they will not provide that element of sweetness that counters the tanginess of the Dijon mustard. If you have difficulty finding the a sweetened teriyaki sauce or glaze, you can easily make your own - see
Teriyaki Sauce
. Bacon Parmesan Chicken is one of those dishes you can whip up on a moment's notice, and one all ages will enjoy!
Ingredients
4 skinless, boneless chicken breast halves
1/2 cup Dijon mustard
1/4 cup sweetened teriyaki sauce or glaze (for homemade, see Teriyaki Sauce)
1/4 cup bacon bits (about 3-5 pieces bacon), crumbled
1/2 cup grated Parmesan cheese
Directions
Preheat oven to 400° F.

Place chicken in a 9"x13" casserole dish. Spread Dijon mustard evenly over the chicken. Pour teriyaki sauce evenly over the mustard-covered chicken. Sprinkle crumbled bacon evenly over the top, then sprinkle the Parmesan cheese to evenly cover all pieces of chicken.

Bake uncovered for 30 minutes. Serve immediately.
Other recipes you might like: