Bacon Parmesan Chicken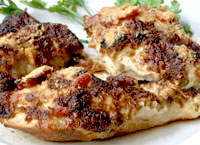 Suggestion:
Delicious served with salad and a side of bread.
Ingredients
4 skinless, boneless chicken breast halves
1/2 cup Dijon mustard
1/4 cup sweetened teriyaki basting sauce or glaze
1/4 cup bacon bits (about 3-5 pieces), crumbled
1/2 cup grated Parmesan cheese
Directions
Preheat oven to 400° F.

Place chicken in a 9"x13" casserole dish. Spread Dijon mustard
evenly over the chicken. Pour teriyaki sauce evenly over the mustard-covered chicken. Sprinkle crumbled bacon evenly over the top, then sprinkle the Parmesan cheese to evenly cover all pieces of chicken.

Bake uncovered for 30 minutes. Serve immediately.