Chicken Dijon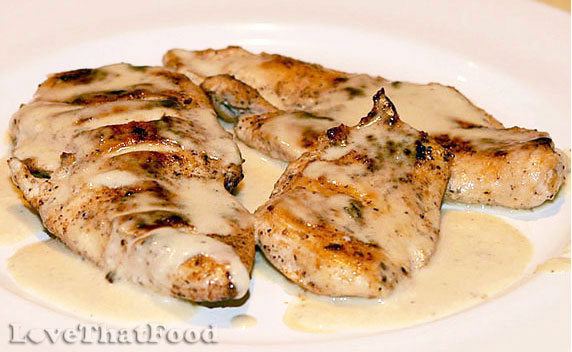 Cook Time:
About 30 minutes
Tips:
Rosemary can be ground into powder in a coffee grinder if desired.
Chicken Dijon is an easy and elegant dish with fabulous flavor. This Chicken Dijon recipe (also
occasionally referred to as Chicken Dijonaisse) features chicken breasts that are fried with a little butter and oil in the skillet until lightly browned yet still tender inside. A creamy sauce made with heavy cream, Dijon mustard, white wine, chopped onion and assorted herbs is simmered, then draped over the tops of the chicken breasts, giving them rich golden color, elegance and exquisite flavor.
One of the herbs used with this recipe is dried rosemary, which you may notice you have in the small stick-like form. If you would prefer to not have the rosemary in this stick form in your sauce, you can easily grind them to powder form in a coffee grinder, if you have one handy. Chicken Dijon is delicious served on its own or with any type of rice
Ingredients
8 boneless, skinless chicken breasts
3 tablespoons butter
1 tablespoon oil
1/4 cup chopped onion
1/2 cup dry white wine
2 tablespoons Dijon mustard
1 1/2 cups whipping cream
dash rosemary
dash thyme
dash tarragon
salt & pepper
Directions
Slice the thicker chicken breasts in half lengthwise Heat 2 tablespoons butter and 1 tablespoon oil in skillet and add chicken breasts. Season with salt and pepper and cook until brown on both sides and cooked through (with no remaining pink inside). Remove from pan and cover with aluminum foil to keep warm. Set aside.

Melt 1 tablespoon butter in skillet and add onion and sauté until tender. Add wine and mustard and simmer until mixture is reduced by half. Add whipping cream and simmer until sauce is slightly thickened and coats spoon. Add rosemary, thyme and tarragon. Pour over chicken.
Other recipes you might like: