Chicken with Cream Sauce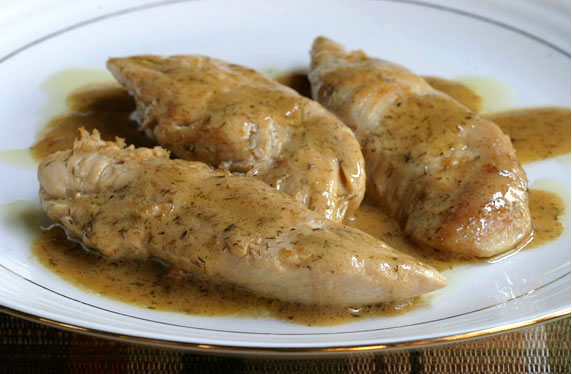 Tips:
Add small equal portions of additional chicken broth and cream to create more sauce is desired.
Suggestion:
Serve alone or over rice with a side of
vegetables
and/or a
salad
.
Chicken with Cream Sauce is amazingly delicious and so easy to make! This chicken recipe features modest portions of chicken (you can use chicken breasts or a whole chicken) that are quickly and lightly browned in a combination of butter and oil, then simmered in a mixture of white wine, chicken broth and dried thyme. After only 20 minutes, the chicken is cooked and tender, and
heavy cream is stirred into the broth, creating a fabulous creamy and savory sauce that can be served together with the chicken on a large platter or served separately to be drizzled over each individual serving. This savory white wine sauce is unforgettable and is truly gourmet!
The wine and chicken broth will reduce as they simmer with the chicken, intensifying flavor and color. The color of the sauce can vary from a light cream color to tan (as shown above), depending on cooking temperatures and the amount the liquid reduces while cooking. If after adding the cream you would still prefer a little more sauce, you can add more small amounts of equal portions of cream and chicken broth if desired, whisking or stirring in to incorporate for about 1-3 minutes until blended and smooth (a taste test is recommended after each addition of more broth and cream to make sure you do not dilute the flavor of the sauce). This chicken dish is fabulous on its own or served over rice.
Ingredients
4 boneless, skinless chicken breasts or 1 3 to 4-lb. chicken
3 tablespoons butter
1/4 cup oil
1/2 cup dry white wine
1 cup chicken stock
1 teaspoon dried thyme
1/2 cup heavy cream
1/2 teaspoon salt
1/4 teaspoon pepper
Directions
Cut chicken into desired serving portions (Suggestion: If using chicken breasts, cut each breast into 3-4 pieces, trying to keep each cut about the same thickness so they all cook at the same speed). Melt butter and oil together in a large skillet. Add chicken and fry over medium heat for about 3 minutes on each side or just until very lightly browned on both sides. Add wine, chicken stock and thyme. Bring to a boil, then reduce heat and simmer over low heat for about 20 minutes or until chicken is tender.

Using a slotted spoon, transfer chicken to a serving dish or platter and cover with aluminum foil to keep warm. Whisk or stir cream into the liquid in skillet and boil on medium-high, stirring frequently until mixture forms a smooth and creamy consistency (about 3-5 minutes). Add salt and pepper (if desired, adjust amount of salt and pepper to your personal preference) and mix well. Pour sauce over chicken on platter or serve sauce on the side to be drizzled over individual servings. Serve alone or over rice.
Other recipes you might like: