Chicken with Almond Cream Sauce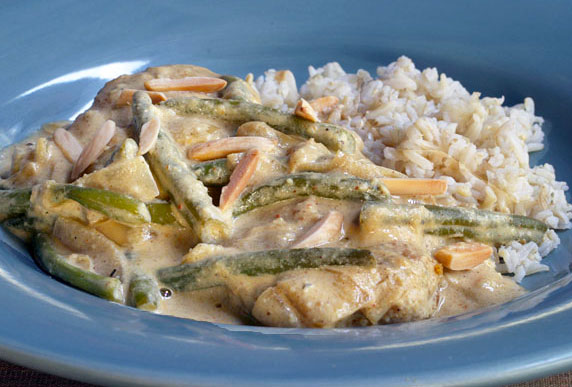 Cook Time:
About 40 minutes
Tips:
See recipe description for how to toast and grind almonds.
Suggestion:
Serve alone or with rice, such as basmati, brown, or long grain rice.
Chicken with Almond Cream Sauce is a delicious Indian dish featuring sauteed chicken breasts generously smothered with a rich and creamy almond-flavored sauce accented with tender cooked onions and French green beans. This elegant chicken dish is surprisingly easy to prepare. Boneless, skinless chicken breasts are fried in ghee (a class of clarified butter used in South Asian (and in this case, Indian) cuisine. (Ghee can be found in many grocery stores and Indian or specality grocery stores. If you don't have ghee handy, you can use butter or oil instead.) The sauce is made with yogurt, heavy cream, ground almonds, freshly squeezed lemon juice
and an assortment of distinct spices and flavorings. The cast of Indian spices performing in the creamy almond sauce features ginger root, garam masala, chili powder, curry paste. All of these ingredients can be found in international or Indian grocery stores (you might also be able to find these ingredients in traditional grocery stores). Garlic, chicken stock, and lemon juice are also added, giving this chicken dish a savory, tangy and amazing flavor.
One of the flavor enhancements of this dish comes from the fact that the almonds are toasted before grinding them and adding them to the sauce and before sprinkling them over the top of the servings. If you can't find toasted almonds in a store, you can easily toast them yourself. Simply place them on a baking dish in a 350-degree preheated oven and allow them to cook for 10-15 minutes, stirring every 5 minutes or so until they begin to turn a light golden brown. (Be sure to watch them closely so they don't burn!) You can use slivered almonds as shown in the photo above or sliced whole amonds (slivered are usually easier to find in stores). The almonds grind quickly and beautifully in a
mini food processor
, though can also be ground in a
coffee grinder
(be sure to wipe out the coffee grinder before grinding the almonds).
Ingredients
2/3 cup plain yogurt
1/2 teaspoon cornstarch
4 tablespoons ghee (butter oil can be used instead)
4 boneless, skinless chicken breasts
2 onions, cut into 1/2-inch-thick slices
1 clove garlic, crushed
1-inch piece ginger root, minced
1 1/2 tablespoons garam masala
1/2 teaspoon chili powder
2 teaspoons medium curry paste
1 1/4 cups chicken stock
2/3 cup heavy cream
1/2 cup ground almonds
4 oz. French green beans, trimmed and halved
2 tablespoons freshly squeezed lemon juice
salt and pepper to tatse
toasted, slivered almonds for garnish
boiled rice (optional, but recommended)
Directions
In a small bowl, whisk together the yogurt and cornstarch. In a large skillet, heat the ghee (or oil or butter). Add the chicken breasts and fry until golden on both sides and cooked through yet still tender (8-10 minutes). Transfer the chicken to a plate and cover with aluminum foil to keep warm, reserving juices and bits and pieces in the skillet.

To the skillet, add onions, garlic and ginger and cook over low-medium heat until onions are slightly tender (about 3 minutes). Stir in the garam masala, chili powder and curry paste, then cook for 1 minute. Stir in the chicken stock, yogurt, salt and pepper and bring to a boil, stirring constantly.

Immediately return chicken breasts to skillet, then cover and simmer over low heat for 25 minutes. Transfer chicken to a serving dish and cover again with aluminum foil to keep warm. In a small bowl, blend the cream with the ground almonds, then stir into the sauce. Stir in the green beans and lemon juice and boil vigorously for 1 minute, stirring constantly.

Return chicken to skillet and cover. Simmer over low heat for an additional 10 minutes. Serve chicken breasts generously topped with sauce. Sprinkle toasted slivered almonds over top and serve.
Other recipes you might like: