Stuffed Chicken with Orange Cream Sauce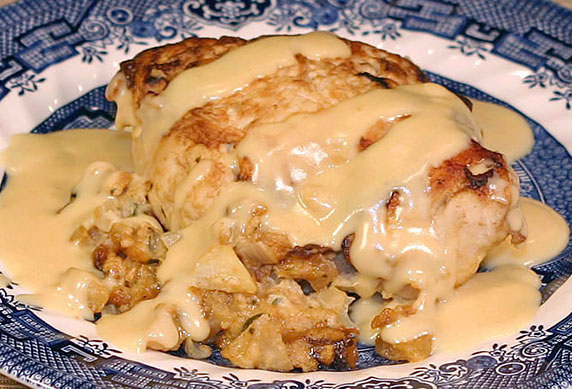 Tips:
Stuffed chicken breasts may be stored in refrigerator up to one day in advance until ready to cook.
This is a truly unique, fabulous and elegant skillet chicken recipe with gourmet flavor. It is not only easy to prepare, it takes only about 45 minutes to cook. Chicken breasts are first pounded down with a
meat pounder
to a 1/4-inch thickness,
which gives them more tenderness and pliability. A delightful mixture of bread crumbs, chopped apples, diced onions, parsley, some half and half cream and seasonings is then placed on one side of the flattened chicken breasts then the breasts are folded over the stuffing mixture. After a quick browning in the skillet, the stuffed chicken breasts simmer in the skillet for 30 minutes in an orange juice and chicken bouillon mixture. Before serving, a wonderful creamy orange sauce is quickly whipped up in the skillet. This orange sauce is made by first creating a roux (in this case, the roux is made from a mixture of flour, butter and the orange sauce the chicken simmered in). More orange juice and some half and half cream is then added to the roux, and the sauce simmers until thickened. This creamy and delicious orange sauce is drizzled over the top of these gourmet chicken breasts, making an impressive and colorful presentation. The extra sauce is served in a gravy boat.
Ingredients
4 whole chicken breasts, boned, skinned and halved
1 cup plain bread crumbs
1 red apple, chopped
1 tablespoon snipped fresh flat-leaf parsley
1/2 teaspoon salt
1/8 teaspoon pepper
1 1/4 cups half and half cream, divided
3 tablespoons butter, divided
1 cup orange juice, divided
1 chicken bouillon cube
2 tablespoons flour
Directions
Place chicken breasts between two sheets of wax or parchment paper. Using a meat pounder, pound each breast from the centers outward to form cutlets about 1/4-inch thick. In a medium mixing bowl, combine bread crumbs, apple, onion, parsley, salt, pepper and 1/4 cup of the half and half. Mix with a fork until thoroughly combined. Divide stuffing among the 4 chicken breasts, placing on one side of each breast. Fold each breast over the filling, then fasten edges with one or two toothpicks.

In a 12-inch skillet, over medium heat, melt 2 tablespoons of the butter. Transfer stuffed chicken breasts with a spatula to the skillet and cook breasts on both sides until golden brown. Stir in 1/2 cup of the orange juice and the chicken bouillon cube. Reduce heat to low. Cover and simmer for 30 minutes. About 15 minute before simmering is complete, preheat oven to 200° F.

Carefully transfer chicken breasts to a platter or baking sheet and place in preheated oven to keep warm while you make the sauce.

Over low heat, stir remaining 1 tablespoon butter into the juices in the skillet. Add flour and continue stirring until thoroughly blended. Stir in remaining 1 cup of half and half and 1/2 cup of orange juice. Increase heat to medium and continue stirring constantly until thickened. Strain sauce into a warmed gravy boat. You can pour some of the sauce over the chicken breasts on the platter for presentation, or serve sauce separately, allowing guests to pour their own sauce.
Other recipes you might like: