Vegetables
We all know how important it is to get our daily dose of vegetables, so why
not add some variety and flavor to those vegetable dishes? Vegetables are naturally very colorful, and are full of texture; each one possessing its own unique flavor and form. It seems grocers are offering more varieties of vegetables on display these days, giving us plenty of opportunities to explore. Vegetables can be prepared in many ways, including stir-frying, steaming, baking, grilling, and baking. Vegetables can blend wonderfully with sauces, spices, herbs, cheeses, breads and meats. In essence, they go well with almost anything. You can also find plenty of dishes throughout this site that contain vegetables simply by browsing the various recipe categories. I look forward to discovering new tasty vegetable recipes and sharing them with you.
Vegetable Recipes ▼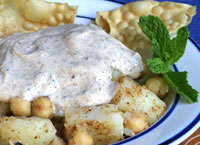 Aloo Chaat
is an Indian dish commonly served on the streets in North India. This
Aloo Chaat recipe
features boiled potato chunks and garbanzo beans tossed with a variety of Indian seasonings. Plain yogurt combined with the same seasonings used with the potatoes and garbanzo beans is spooned over the top, and garnishes of
Cucumber Raita
and crispy fried pappadums are served on the side.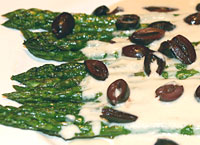 Asparagus Tahini with Greek Olives
is a unique and wonderful asparagus recipe featuring sautéed crisp-tender asparagus spears liberally drizzled with a mildly tart and full-flavored tahini and yogurt sauce, Tahini (also sometimes called sesame paste) freshly squeezed lemon juice, minced garlic and honey. The spears are then topped with sliced kalamata (Greek) olives, giving this vegetable dish the perfect added touch of flavor.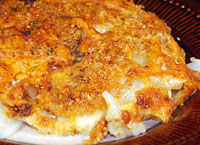 This delicious
Au Gratin Potatoes with Crumb Topping recipe
makes a great side dish for most any meal. Also often referred to as Scalloped Potatoes or Potatoes Au Gratin, this potato and cheese casserole features thin slices of potatoes baked with a creamy cheddar cheese sauce that whips up on the stove in just minutes. A delicious cheese and bread crumb topping is sprinkled over the top, giving it a delightful cheesy crunch!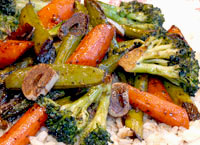 This
Balsamic Grilled Vegetables recipe
features broccoli florets, carrots, asparagus and garlic and snap peas, all of which are marinated in a seasoned balsamic vinegar and olive oil sauce, then cooked to tender-crisp. These vegetables can be cooked in a portable grill, wok, over your outdoor grill or on your stovetop, all producing delicious results. During BBQ season, this is a great way to add a vegetable side dish to your barbequed dish!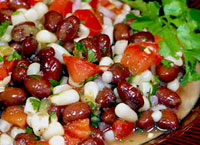 Black Bean and Corn Salsa
is a vibrant and healthy salsa recipe that tastes delicious with
tortilla chips
,
crostini
or other crunchy dipping snacks. While most salsa recipes contain tomatoes and/or tomato sauce, onion and cilantro, this festive salsa recipe combines black beans, kernel corn, tomatoes, red bell pepper, diced green chiles and fresh chopped cilantro, giving it unique and delightful flavor and texture, not to mention vibrant color!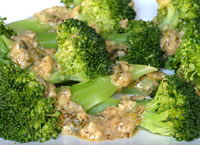 Broccoli Vinaigrette
is a tangy and delicious way to prepare broccoli, featuring steamed (or any other cooking method) broccoli florets that are tossed with a light and vibrant sauce that takes just 3 minutes to prepare. This easy sauce is made with diced green onions, Dijon mustard, red wine vinegar, extra virgin olive oil, dry mustard and tarragon, and is quickly whipped up on your stove top, then drizzled over the broccoli.