Vegetables
We all know how important it is to get our daily dose of vegetables, so why
not add some variety and flavor to those vegetable dishes? Vegetables are naturally very colorful, and are full of texture; each one possessing its own unique flavor and form. It seems grocers are offering more varieties of vegetables on display these days, giving us plenty of opportunities to explore. Vegetables can be prepared in many ways, including stir-frying, steaming, baking, grilling, and baking. Vegetables can blend wonderfully with sauces, spices, herbs, cheeses, breads and meats. In essence, they go well with almost anything. You can also find plenty of dishes throughout this site that contain vegetables simply by browsing the various recipe categories. I look forward to discovering new tasty vegetable recipes and sharing them with you.
Vegetable Recipes ▼
Onion Bhajis
are an Indian version of traditional onion rings, and are served with an easy yogurt dipping sauce seasoned with some Indian spices. These crispy-fried onion bhajis are made with thinly sliced onions that are coated with a batter made with gram flour (also called besan or chickpea flour), an egg and some Indian spices and herbs. The sliced onions are tossed with the batter and quickly fried until golden and crispy.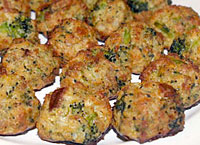 Parmesan Broccoli Balls
are fun vegetable appetizers with fantastic taste, and are loved by all ages. They have a slightly crispy outer shell, and are chewy and cheesy on the inside, with the added subtle flavor of broccoli and a wonderful blend of other ingredients. Parmesan Broccoli Balls are are made with a simple combination of chopped broccoli flowerets, prepared stuffing mix, Parmesan cheese, onions and egg.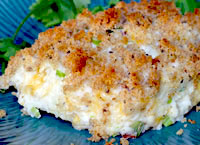 If you like
Twice-Baked Potatoes
, then you'll love this
Potato Cheese Casserole
! This easy potato casserole recipe features boiled and grated potatoes, cheddar cheese, crumbled bacon, sliced green onions, sour cream and a little butter, all mixed together and placed in a casserole dish. To top it all off, a delicious buttery seasoned bread crumb topping is sprinkled over the top, turning golden brown and crispy as it bakes.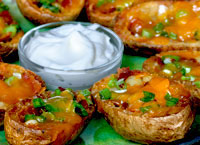 What could be better as a tasty and fun appetizer or side dish than some crispy potato skins filled with all the right goodies?! These
Potato Skins
are first baked, then cut into halves. Some of the pulp is removed, then they're then deep-fried until crispy. The crispy potatoes are then seasoned and filled with crumbled bacon, diced green onion and shredded cheddar cheese, then placed under the broiler until the cheese melts. A big hit!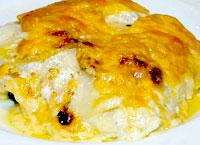 This
easy Potatoes Au Gratin recipe
features thinly sliced potatoes in a creamy cheddar cheese sauce, baked until hot, golden and bubbly. This potato casserole serves as a perfect side dish for meat, poultry and seafood dishes, and is a popular side dish for holidays, such as Christmas and Thanksgiving. If you own a vegetable slicer (or mandolin slicing tool), you can whip this dish up in no time!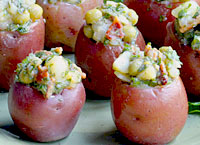 Red Potato Cups
make a finger food great appetizer or snack or even a side dish in place of potato salad. This baby red potato recipe features boiled small red potatoes that have been hallowed out and stuffed with a tangy red potato salad made with diced red potato, fresh herbs, bacon, peas, Dijon mustard, red wine vinegar and olive oil. These adorable snacks are small enough to pop in your mouth all at once or can be eaten with a fork.