Vegetables
We all know how important it is to get our daily dose of vegetables, so why
not add some variety and flavor to those vegetable dishes? Vegetables are naturally very colorful, and are full of texture; each one possessing its own unique flavor and form. It seems grocers are offering more varieties of vegetables on display these days, giving us plenty of opportunities to explore. Vegetables can be prepared in many ways, including stir-frying, steaming, baking, grilling, and baking. Vegetables can blend wonderfully with sauces, spices, herbs, cheeses, breads and meats. In essence, they go well with almost anything. You can also find plenty of dishes throughout this site that contain vegetables simply by browsing the various recipe categories. I look forward to discovering new tasty vegetable recipes and sharing them with you.
Vegetable Recipes ▼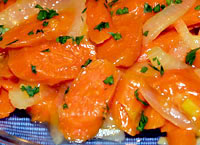 Crisp-tender, diagonally-sliced carrots taste delightful combined with thinly sliced onions in this simple
Sweet and Sour Carrots recipe
. In just a few minutes, you can prepare this bright and colorful vegetable side that will accompany most any meat dish. Carrot and onion slices are cooked until crisp-tender, then stir-fried with a sweet and tangy sauce made wtih chicken broth, apple cider vinegar, brown sugar, oil and cornstarch for thickening.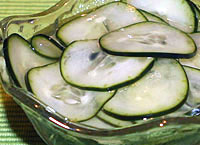 Sweet and Sour Cucumbers
are great as an accompaniment to any main course, especially spicy dishes, such as Thai, Indian or Mexican. They can be used in
Thai Lettuce Wraps
as one of various filler ingredients. Sweet and Sour Cucumbers can also add a "kick" to a turkey, chicken or tuna sandwiches, giving them a nice crunch as well as added flavor. The easy marinade is made using sugar and rice vinegar.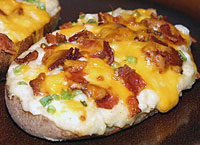 This
Twice-Baked Potatoes recipe
is truly delicious, and can be made using any type of potato. Potatoes are baked, then the potato meat is removed and mixed with a blend of bacon, green onions, sour cream, butter, milk and cheddar cheese. This mixture is then placed back into the potato cavities, and the potatoes are baked again just long enough to heat the potato mixture and allow the cheese to melt. Outstanding!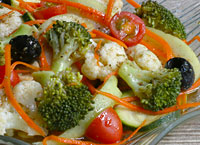 This fresh and delicious
vegetable salad recipe
features tender-crisp (briefly steamed) vegetables that are marinated overnight in a tangy homemade salad dressing (Rosemary Vinaigrette). This healthy salad includes broccoli florets, cauliflower florets, zucchini slices, chayote squash wedges, julienned carrots, halved cherry tomatoes (or grape tomatoes) and black olives. Additional Rosemary Vinaigrette is served on the side.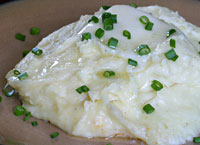 When it comes to comfort food, mashed potatoes are likely one of the first foods that come to mind. With very little effort, these
White Cheddar Mashed Potatoes
add fabulous flavor to traditional mashed potatoes and nicely accompany most any meat, fish or poultry dish. With the help of your electric mixer and a whisk attachment, once the potatoes are cooked, you can have these tasty mashed potatoes on the table in minutes.