Vegetables
We all know how important it is to get our daily dose of vegetables, so why
not add some variety and flavor to those vegetable dishes? Vegetables are naturally very colorful, and are full of texture; each one possessing its own unique flavor and form. It seems grocers are offering more varieties of vegetables on display these days, giving us plenty of opportunities to explore. Vegetables can be prepared in many ways, including stir-frying, steaming, baking, grilling, and baking. Vegetables can blend wonderfully with sauces, spices, herbs, cheeses, breads and meats. In essence, they go well with almost anything. You can also find plenty of dishes throughout this site that contain vegetables simply by browsing the various recipe categories. I look forward to discovering new tasty vegetable recipes and sharing them with you.
Vegetable Recipes ▼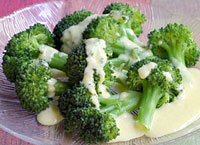 Broccoli with Hollandaise Sauce
can be served as a side dish or as an elegant appetizer for parties and events, and is a delicious way to add flavor and texture to this popular vegetable. The easy Hollandaise Sauce recipe is made with lightly seasoned egg yolks and butter briefly cooked together over low heat, and is flavored with a hint of lemon, giving the perfect complimentary flavor to crisp-tender broccoli florets.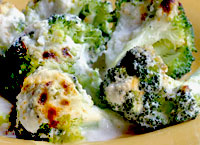 Broccoli with Lemon Cream Sauce
has delightful flavor and is a colorful and elegant way to serve broccoli. Broccoli florets are drizzled with a mild and creamy sauce made with whipped cream, sour cream, fresh lemon juice, dry mustard and grated onion. The florets are then lightly sprinkled with paprika and broiled just long enough for the lemon cream sauce to partially brown, giving this vegetable side dish flavor and visual appeal!
Cauliflower and Broccoli Gratin
(also sometimes referred to as "au gratin") is a delicious way to add cheesy flavor and color to these two popular vegetables. This easy vegetable recipe features cauliflower and broccoli florets baked with a homemade creamy cheddar cheese sauce that becomes hot and bubbly, while the top turns to a beautiful golden brown, giving this broccoli dish a light and tasty crisp.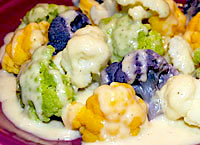 It's easy to create variety and add some creamy and delicious flavor to a side of cauliflower, simply by serving it with an easy cheese sauce! This photo shows
Cauliflower with Cheese Sauce
made with white, orange, green and purple cauliflower, which clearly add color and eye appeal, but you can use any colors or only one color if you prefer. This cheese sauce compliments broccoli as well, and only takes a few minutes to prepare!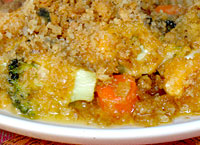 Broccoli, cauliflower and carrots are the perfect threesome for this cheesy, buttery and crumbly dish! Simply combine some cheddar cheese and butter with your veggies, top them with some buttered cracker crumbs, and pop it in the oven for a short time. This
Cheesy Vegetable Casserole recipe
nicely accompanies most any meat or seafood dish, or can be enjoyed as a meatless main dish. Kids will enjoy this as well!
Serving a variety of vibrant-colored vegetables can make getting your daily dose of vitamins and fiber a festive experience!
Confetti Vegetable Stir-Fry
features baby corn, snow peas, broccoli, small red potatoes, carrots, sweet red peppers and a combination of white, orange, green and purple cauliflower. These vibrant vegetables are stir-fried with a sauce made of cooking sherry, soy sauce, scallions, sesame oil, ginger and garlic.