Vegetables
We all know how important it is to get our daily dose of vegetables, so why
not add some variety and flavor to those vegetable dishes? Vegetables are naturally very colorful, and are full of texture; each one possessing its own unique flavor and form. It seems grocers are offering more varieties of vegetables on display these days, giving us plenty of opportunities to explore. Vegetables can be prepared in many ways, including stir-frying, steaming, baking, grilling, and baking. Vegetables can blend wonderfully with sauces, spices, herbs, cheeses, breads and meats. In essence, they go well with almost anything. You can also find plenty of dishes throughout this site that contain vegetables simply by browsing the various recipe categories. I look forward to discovering new tasty vegetable recipes and sharing them with you.
Vegetable Recipes ▼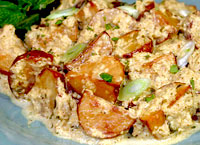 Curry Yogurt Potatoes
has a distinct and uniquely delicious flavor that your taste buds will applaud! Inviting new spices and flavors from different cultures is one of the best ways to keep the art of eating adventurous and exciting and make us fall in love with food over and over again. Made with a combination of some commonly used ingredients and a couple Indian flavorings, this potato recipe introduces a fabulous new flavor experience!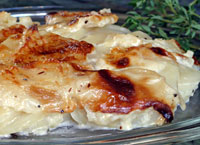 This
Dauphinoise Potatoes recipe
, is a French style potato casserole that features layers of sliced potatoes and Gruyere or white cheddar cheese. The potatoes are briefly simmered in a seasoned milk and cream mixture, then transferred to a casserole dish to create two layers, each topped with either Gruyere or white cheddar cheese. The milk and cream mixture is then poured over the top and the potatoes are baked until golden.
This
Four Bean Salad recipe
has a sweet and tangy flavor, and is a perfect salad to serve at picnics and BBQ's (can last all day with no refrigeration), or as a side dish to any main course anytime. Sliced green and wax beans, kidney beans and garbanzo beans (chick peas) along with slivered green bell pepper and green onion (optional, but delicious!), are tossed with a dressing made with a combination of oil, vinegar, sugar and salt.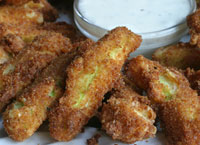 Whether you like to call them fried zucchini sticks or zucchini fries, one thing is certain - these crispy
Fried Zucchini Sticks
are universally enjoyed by everyone, including kids and the young at heart! For those kids who tend to shy away from green vegetables, these fun and tasty Fried Zucchini Sticks recipe will likely make them forget all about the fact that they're actually eating a green vegetable!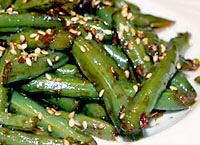 Here's a quick way to turn green beans into a delightful tangy vegetable side dish! This
Garlic and Ginger Green Bean recipe
features sliced green beans that are stir-fried with minced garlic and ginger, then cooked with a sauce made with soy sauce, dry sherry (or water), olive or other oil and a dash of sugar until the beans are crisp-tender. The beans are then topped with toasted sesame seeds, giving this dish added flavor and texture.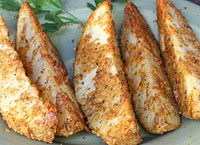 These
Garlic Parmesan Potato Wedges
are as easy to make as they are delicious! Simply cut some Russet potatoes lengthwise to create wedges, toss them in some olive oil, then toss them again with a super easy mixture of parmesan cheese, garlic powder, thyme, salt and pepper and pop them in the oven for 35-40 minutes, and you've got a fantastic tasting side dish, snack or appetizer!