Garlic and Ginger Green Beans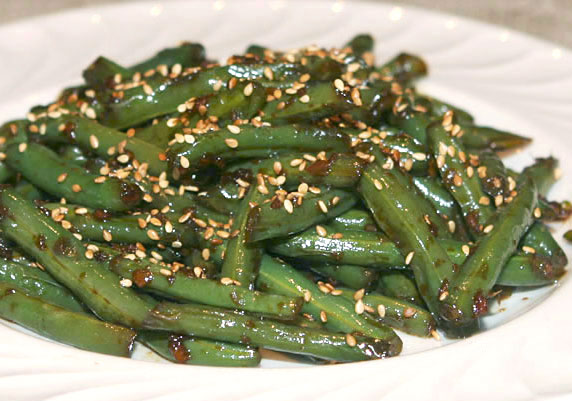 Tips:
If you use a large skillet for this recipe and it appears you need more liquid, you can double the soy sauce mixture.
Suggestion:
Delicious served as a side to most any main dish, especially Asian dishes.
Green beans are always an all-time favorite when it comes to green
vegetables. Green beans are also very versatile, and can be prepared in endless ways. This Garlic & Ginger Green Beans recipe features green beans briefly stir-fried with fresh minced garlic and ginger root. The beans are then cooked in a sweet and tangy sauce made with soy sauce, dry sherry (or water), minced garlic, minced fresh ginger root and a small amount of sugar, together offering a nice balance of flavors. The beans take less than 10 minutes to cook which gives them a delightful crisp-tender texture combined with lively flavor. Once cooked, for more flavor and a nice crunch (as well as eye appeal), the beans are topped with some toasted sesame seeds.
Ingredients
4 teaspoons soy sauce
1 teaspoon sugar
1 tablespoon dry sherry or water
1 tablespoon toasted sesame seeds
1 1/2 tablespoons oil
3 cloves garlic, minced
1 tablespoon minced fresh ginger
1 lb. green beans
Directions
In a small mixing bowl, whisk together soy sauce, sugar and sherry (or water). Set aside.

Heat a wok or skillet over medium-high heat. Add oil and heat until hot. When oil is hot, add garlic, ginger and beans and stir-fry for about 1 1/2 minutes. Add soy sauce mixture and stir to evenly combine. Reduce heat to medium. Cover and cook until beans are tender-crisp to bite (about 4-7 more minutes).

Uncover and increase heat to high. Boil, stirring until almost all liquid has evaporated (about 1-3 minutes). Dish beans and any remaining sauce onto a platter and top with toasted sesame seeds.
Other recipes you might like: