Confetti Vegetable Stir-Fry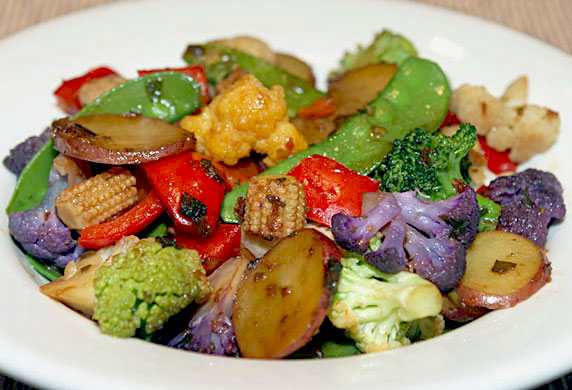 Tips:
You can add any additional vegetable you like, such as green (bell) pepper, green and/or yellow squash and/or sugar snap peas.
Suggestion:
Serve as a side dish to most any main course, especially Asian dishes.
This stir-fry vegetable recipe comes alive with brilliant color, hosting a variety of colorful vegetables
cooked in a light and tangy stir-fry sauce. This vegetable stir-fry dish will add vibrance to your table, and can make getting your daily dose of vitamins and fiber a delightful and festive experience. The photo above shows this Confetti Vegetables Stir-Fry recipe made with a combination of baby corn, snow peas, broccoli florets, thinly sliced small red potatoes,chopped sweet red bell peppers and a combination of white, orange, green and purple cauliflower. Other vegetables such as carrots, sugar snap peas, small yellow potatoes or any other of your favorite vegetables can be added as well. The tangy sauce is made with dry cooking sherry, soy suace, sesame oil, chopped scallions, minced fresh ginger root and minced garlic, and compiments these vegetables with a nice tangy flair.
Ingredients
Vegetables

1 cup broccoli florets
1 cup cauliflower florets (you can use various colors of cauliflower)
3 small red potatoes, thinly sliced
1/3 cup small baby corns (in can or pickled in jar), cut into bite-size pieces
1 carrot, diagonally sliced into bite-size pieces
1/2 sweet red (bell) pepper, sliced into bite-size pieces
1/2 cup snow peas
2 tablespoons olive or other oil
1/3-1/2 cup water



Sauce

1/3 cup dry cooking sherry
3 tablespoons soy sauce
2 teaspoons sesame oil
1/4 cup finely chopped scallions
1 teaspoon minced fresh ginger
1 garlic clove, minced
Directions
Sauce
Whisk all ingredients together in a small mixing bowl and set aside.
Vegetables
Heat a large skillet or wok on medium high. Add oil and allow to heat for about 15 seconds. Pour vegetables into skillet and add 1/3 cup water. Begin stir frying, shaking pan occasionally to evenly coat with oil and water. When water has nearly completely evaporated, pierce a carrot to see if it is tender. If it is still too firm, add a little more water (about 1/4 cup) and continue cooking just until vegetables are tender, yet firm. Cook until water has completely evaporated and vegetables are cooked, then add sauce and stir to thoroughly coat. Serve.
Other recipes you might like: