Vegetables
We all know how important it is to get our daily dose of vegetables, so why
not add some variety and flavor to those vegetable dishes? Vegetables are naturally very colorful, and are full of texture; each one possessing its own unique flavor and form. It seems grocers are offering more varieties of vegetables on display these days, giving us plenty of opportunities to explore. Vegetables can be prepared in many ways, including stir-frying, steaming, baking, grilling, and baking. Vegetables can blend wonderfully with sauces, spices, herbs, cheeses, breads and meats. In essence, they go well with almost anything. You can also find plenty of dishes throughout this site that contain vegetables simply by browsing the various recipe categories. I look forward to discovering new tasty vegetable recipes and sharing them with you.
Vegetable Recipes ▼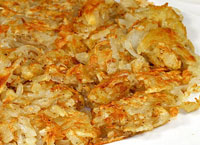 Hash Browns
are very easy to make, are a great hot addition to any breakfast, and will provide a good amount of hunger-quenching comfort food for your dollar. There's a trick to making hash browns that are crispy on the outside and light and perfectly cooked on the inside, which this recipe reveals. Hash Browns can be made with Russet potatoes as shown in the above photo, or use any other type of potato you prefer.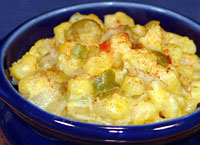 Hominy Casserole
is a quick and easy skillet recipe that can be put together in just 10 minutes! This creamy and cheesy vegetable casserole is made with hominy (either yellow or white hominy), cheddar cheese, onions, diced green bell peppers and sliced ripe or green olives (photo shows this recipe made with green olives). The olives are optional, but highly recommended, because they add a wonderful complimentary flavor.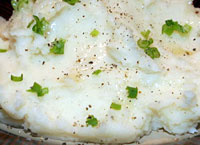 Mashed potatoes are always delicious with a little pat of butter, some chives, salt and pepper or perhaps with your favorite gravy or even a cheese sauce - but wait until you try them after adding some horseradish, garlic, cream and milk and a few spices and herbs! The taste of horseradish in this
Horseradish Mashed Potato Recipe
is subtle, yet offers awakening flavor, giving mashed potatoes a very delightful "zing!"
Indian Spiced Cauliflower
is an Indian cauliflower recipe that adds unique flavor and color to this bright yet otherwise colorless vegetable. It can be served hot as a vegetable side dish to various Indian main course recipes or any type of main course, as a healthy snack, or as a cauliflower salad. As a salad, though Indian Spiced Cauliflower can be chilled, it actually doesn't require refrigeration, so it's great for picnics.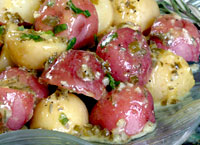 This delicious new potatoes recipe has great flavor, thanks to its fabulous buttery sauce that combines a perfect blend of seasonings and herbs with lemon juice and lemon zest! This
Lemon Chive Potatoes recipe
features small red (and/or yellow) potatoes that are halved, boiled, then drizzled with a sauce made with melted butter, freshly squeezed lemon juice, lemon zest, garlic and fresh rosemary and fresh chives.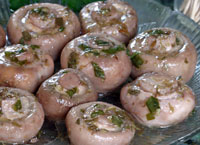 Even if you're not the biggest mushroom fan, chances are you're going to love these marinated mushrooms! This
Marinated Mushrooms recipe
(also sometimes referred to as "pickled mushrooms") features small white button mushrooms that are marinated in a tangy mixture of red wine vinegar, oil, garlic and herbs. They're incredibly easy to make, yet are packed with flavor! Perfect as an appetizer, side dish or with salads.