Vegetables
We all know how important it is to get our daily dose of vegetables, so why
not add some variety and flavor to those vegetable dishes? Vegetables are naturally very colorful, and are full of texture; each one possessing its own unique flavor and form. It seems grocers are offering more varieties of vegetables on display these days, giving us plenty of opportunities to explore. Vegetables can be prepared in many ways, including stir-frying, steaming, baking, grilling, and baking. Vegetables can blend wonderfully with sauces, spices, herbs, cheeses, breads and meats. In essence, they go well with almost anything. You can also find plenty of dishes throughout this site that contain vegetables simply by browsing the various recipe categories. I look forward to discovering new tasty vegetable recipes and sharing them with you.
Vegetable Recipes ▼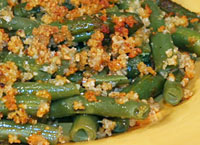 Green Beans Caesar
is an easy green bean recipe that will add tangy flavor and a delightful crispy and cheesy crunch to this popular vegetable side dish. Pulling this dish together is simply a matter of steaming the beans, transferring them to a casserole dish, adding an easy tangy sauce, then topping them with a buttery Parmesan and bread crumb topping. After 15 minutes in the oven, you'll have a tasty new green bean dish all ages will love!
Green beans dress up very nicely with this flavorful
Green Beans with Orange and Basil recipe
! The beans are first cooked to al dente, then topped with a delicious and creamy sauce made with plain yogurt, fresh (or dried) basil, orange zest and orange juice and a small amount of mayonnaise. For convenience, the sauce can be prepared in advance and stored in the refrigerator until you're ready to cook the beans.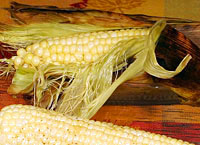 Grilling corn
in its own husk over hot coals has got to be the best way to cook corn. It's simply a matter of trimming off the loose husk leaves from the top, and placing the entire cob wrapped in its own husk on the grill. Even better, you can cook the corn while you're grilling meats. The corn husks have a natural way of protecting the corn from burning, while sealing in all the flavors and natural juices. Crisp, tender and amazingly juicy!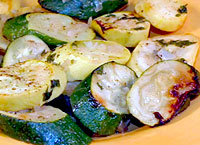 Here's an easy way to prepare some tasty vegetables while you're cooking your main course on the grill! This
grilled vegetable recipe
features zucchini and yellow squash, but can be made with only zucchini or only yellow squash as well. The squash is combined with herbs, seasonings and Parmesan cheese and cooked over hot coils in individual foil pouches, providing a fun, creative and easy way to serve your guests!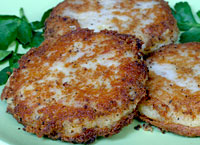 This easy
Ham and Cheese Potato Cakes recipe
features mashed potatoes combined with ground (or shredded) ham, shredded cheddar cheese, a little prepared mustard and some salt and pepper to taste. For an added kick, a dash of cayenne pepper and/or some minced or finely diced green onions can also be added for more flavor and texture, if desired. These little potato appetizers are also great served with dips!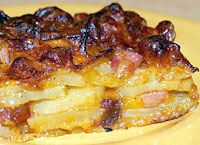 Ham and Scalloped Potatoes
is an easy casserole recipe that feeds plenty, has fabulous flavor, and is enjoyed by all ages. This scalloped potato recipe features thin slices of potato, bite-size chunks of ham, sliced onions and cheddar cheese. All of these delicious ingredients bake together with a simple milk and flour sauce for about 1 hour, resulting in a wonderful bubbly golden casserole with a beautiful caramelized and crunchy top.