Vegetables
We all know how important it is to get our daily dose of vegetables, so why
not add some variety and flavor to those vegetable dishes? Vegetables are naturally very colorful, and are full of texture; each one possessing its own unique flavor and form. It seems grocers are offering more varieties of vegetables on display these days, giving us plenty of opportunities to explore. Vegetables can be prepared in many ways, including stir-frying, steaming, baking, grilling, and baking. Vegetables can blend wonderfully with sauces, spices, herbs, cheeses, breads and meats. In essence, they go well with almost anything. You can also find plenty of dishes throughout this site that contain vegetables simply by browsing the various recipe categories. I look forward to discovering new tasty vegetable recipes and sharing them with you.
Vegetable Recipes ▼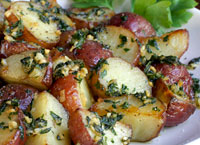 Roasted Red Potatoes with Garlic and Thyme
is a fabulous potato recipe you will not want to pass up! Small red potatoes are cut into halves or quarters (depending on their size), then roasted in the oven with olive oil for until tender and crispy. Once baked, the oven roasted potatoes are drizzled with a fresh herb sauce made with minced garlic, thyme and parsley sautéed butter. An easy and elegant potato side dish!
Looking for a new potato side dish? This healthy
Roasted Red Potato with Raita recipe
features red potato wedges that are coated with an olive oil and Dijon mustard mixture, then tossed coated with a wonderful combination of herbs. After just 25 minutes in the oven, they are drizzled with a Raita made with plain yogurt, grated cucumber, garlic and lemon juice and topped with crumbled feta cheese and fresh chopped parsley.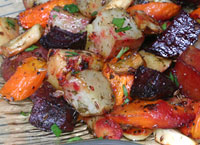 This
Roasted Root Vegetables recipe
is very easy to prepare and produces a vegetable dish with beautiful color and savory flavor! This vegetable dish can be made with any variety of root vegetables and a variety of herbs and seasonings. Shown in this photo are red potatoes, golden potatoes, Russet potatoes, carrots, beets, yams, sweet potatoes, parsnip and cloves of garlic, garnished with fresh chopped parsley.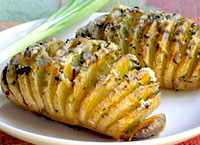 Sliced Baked Potatoes with Herbs
are delicious and an attractive way to serve baked potatoes. Potatoes are sliced, seasoned, brushed with melted butter, then sprinkled with a mixture of chopped fresh herbs and baked until tender. A combination of cheddar and Parmesan cheese is then sprinkled over the tops of the potatoes, then the potatoes are returned to the oven for a short time just until the cheeses melt. Elegant!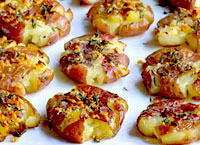 This
Smashed Red Potatoes recipe
features small baby red potatoes that have been baked in a hot oven until soft, then coated with some olive oil and gently smashed down. A mixture of melted butter, sautéed garlic and fresh thyme leaves is then drizzled over the tops of the potatoes, seeping into the cracks and openings. The potatoes are then seasoned with some salt and pepper and roasted until brown and crispy.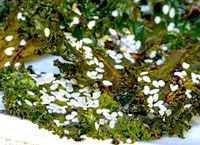 For those who love the flavor of potato chips but are not particularly fond of the calories,
Soy and Sesame Kale Chips
are a great healthy and tasty alternative! This healthy and easy snack recipe features kale that is tossed with olive oil and soy sauce, then baked in the oven until they become crunchy. During the last few minutes of cooking, sesame seeds are sprinkled over the tops, giving this healthy snack added flavor and texture.