Cucumber Raita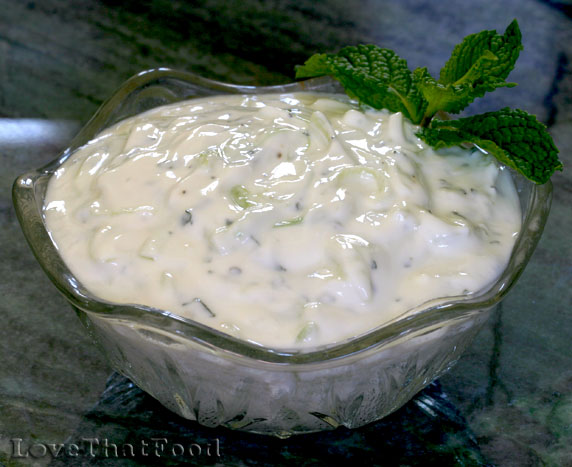 Tips:
Garnish with grated fresh nutmeg, if desired (optional). One-half of a regular cucumber or 1 whole Persian cucumber may be used. Cucumber may be diced rather than julienned, if desired.
Suggestion:
Serve as a condiment with any Indian dish.
Raita is an Indian (also Pakistani and Bangladeshi) condiment that can be served with almost any Inidian main dish. It is mild and refreshing, made with plain yogurt and assorted seasonings that may include coriander, cumin, mint, cayenne pepper, and/or a number of other herbs and spices. This Cucumber Raita recipe is of course,
made with cucumber, but also includes some finely chopped fresh mint, giving this raita a very refreshing flavor that's mild enough to compliment almost any Indian main dish, because it doesn't compete with the spices and seasonings of other foods. It also adds a nice element of moisture to dishes that might otherwise be a bit dry, such as potatoes. (For example, Cucumber Raita is recommended to be served as a condiment with
Aloo Chaat
, an Indian dish made with cooked potato chunks, garbanzo beans (chick peas) and a mixture of Indian seasonings.) This particular cucumber version of raita is very basic, containing only salt and pepper as the seasonings, bringing the flavors of the cucumber and fresh mint to the forefront. This raita recipe is very easy to prepare, because it's just a matter of julienning or thinly slicing (or dicing) the cucumber and finely chopping the mint leaves, then mixing them together with the yogurt. I actually tried some Cucumber Raita over some steamed vegetables, and found it quite tasty!
Ingredients
2 teaspoons finely chopped fresh mint
1/2 regular cucumber (or 1 whole Persian cucumber)
1 cup natural yogurt
salt and pepper
freshly grated nutmeg for garnish (optional)
Directions
Peel the cucumber, then slice it in half lengthwise and remove the seeds with a small spoon or the end of a table knife. Slice the cucumber into small matchstick-size strips with a knife or julienne it using a
julienne peeler
. (Alternatively, for a chunkier effect, you can dice the cucumber into 1/4-inch cubes.)
In a small mixing bowl, stir together the cucumber with the yogurt and mint, then season with salt and pepper to taste. Scoop the mixture into a serving dish and sprinkle lightly with nutmeg before serving, if desired. Serve as a condiment with most any Indian main course.
Other recipes you might like: