Aloo Chaat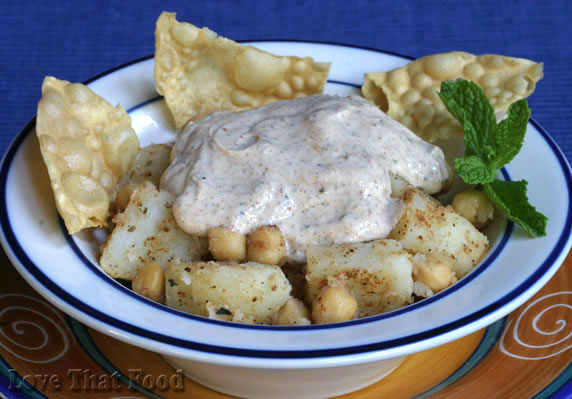 Cook Time:
About 40 minutes
Tips:
Though not necessary, if you prefer your potatoes with a crispy outer crunch, potatoes may be fried (after they have been boiled, peeled and cut into chunks) in a skillet with 1-2 tablespoons of oil until golden and crispy to your liking (probably 5 minutes or so).
Those of you who are not very familiar with Indian food might be asking, "What is Aloo Chaat?" Putting it simply, in Hindi, the word "aloo" means "potatoes," and the word "chat" (derived from the word, "chatna") means "tasting." Aloo Chaat (also sometimes spelled, "Aloo Chat") is a dish commonly served on the streets in North India. It is typically prepared by boiling potatoes, then frying them in oil with the addition of various Indian spices and chutney (chutney is a family of condiments from South Indian cuisine, usually containing a mixture of spices, one or more vegetables, and/or fruits.) Aloo Chaat is versatile, in that it can be served as vegetarian style light dish, a side dish (much like potato salad), or as a snack any time of day.
This recipe for Aloo Chaat does not require frying the potatoes after they've been boiled (though you can certainly briefly fry the potato chunks in 1 or 2 tablespoons of oil, if you'd like to add a little crispy outer crunch). This Indian potato recipe gets its unique flavor from the combination of Indian spices as well as some mint.
This potato dish features cooked cubed potatoes and garbanzo beans tossed with seasonsings, topped with plain yogurt that has been combined with the same seasonings used with the potatoes and garbanzo beans. A side dish of
Cucumber Raita
is also served on the side, along with some fried Pappadams.
Cucumber Raita
is a condiment commonly served with Indian dishes, consisting of plain yogurt, slivered or diced cucumber and fresh mint (and a little salt and pepper). It's very fresh and unique and mild enough to accompany most any main Indian dish, and can also be served with a variety of other foods, such as baked potatoes and other vegetables. Pappadum (also spelled "papadum" and "pappadam," or referred to as "papad") is a thin, crisp disc-shaped Indian food typically made with a seasoned dough of black gram (a type of flour). Pappadams are typically fried or cooked with dry heat, much like tortillas. Flours made from other sources such as lentils, chickpeas, rice, or potato, can also be used to make pappadams. Pappadams are typically served as an accompaniment to a meal or as an appetizer or snack, sometimes served with various toppings. Pappadums are also used in curries and vegetable dishes, such as this Aloo Chaat recipe.
Lastly, though some Indian spices and seasonings can be found in traditional grocery stores, to make this recipe, you will likely need to visit a nearby Indian grocery store (or an ethnic grocery store that carries Middle Eastern and Indian type foods). If you have one of these stores nearby, it will be well worth your while to give it a visit and maybe even stock up on some unique spices and seasonings. It'll open up a whole new edible world for you!
Ingredients
Aloo Chaat

1 can garbanzo beans (chick peas), drained
1 dried red chili pepper
1 lb. golden potatoes
1 teaspoon cumin seeds
1 tesapoon black peppercorns
1/4 teaspoon salt
1/2 teaspoon dried mint
1/2 teaspoon chili powder
1/2 teaspoon ground ginger
2 teaspoons mango powder
1/2 cup natural yogurt
oil (for deep frying pappadums)



Garnishes (optional)

4 pappadums
cucumber raita (follow link for recipe)
Directions
Aloo Chaat
Fill a medium saucepan with enough water to cover potatoes. Bring to a boil, then gently immerse potatoes (skins on). Reduce heat enough to bring the water to a gentle boil and cook potatoes for 35-40 minutes or just until tender and able to be fairly easily pierced with the tines of a fork.
While cooking potatoes, pour can of garbanzo beans (with liquid) into a small saucepan. Add chili pepper and heat to boiling, then immediately remove from heat and cover. Allow to remain in saucepan while potatoes cook.
When potatoes are cooked, drain potatoes and transfer them to a work surface. Remove skins from potatoes, then cut into 1-inch cubes or random chunks. Place potato chunks in a medium mixing bowl. Drain liquid from garbanzo beans and remove chili pepper, then add garbanzo beans to potatoes and gently toss with potatoes. Set aside.
Using a coffee grinder (be sure to remove any ground coffee remnants first) or other spice grinder, or manually with a paste and mortar, grind together the cumin, peppercorns and salt. Add ground spices to a small mixing bowl and stir in the mint, chili powder, ginger and mango powder.
Put a small dry saucepan or skillet over a low heat burner and add the spice mix. Stir until fragrant (you'll be able to smell the aroma of the spices), then immediately remove from the heat.
Sprinkle half of the heated spice mix over the garbanzo beans and potatoes and gently toss to combine. Stir the rest of the heated spices into the yogurt. Serve the potato and garbanzo bean mixture in individual servings topped with the seasoned yogurt, along with
Cucumber Raita
and fried pappadums, if desired. (See recipe below for how to cook pappadums.)
Garnishes (optional)
If serving with pappadums, fry pappadums one-at-a-time in hot oil (using a deep fryer, small skillet or saucepan filled with enough oil to cover one pappadum). Fry for about 30 seconds or until golden, bubbly and crispy. Drain pappadums on a plate stacked with a few paper towels. Break into bite-size pieces and either stir into the potatoes and garbanzo beans or stick into the sides of each serving bowl or dish (as shown in photo).
Other recipes you might like: