Asparagus with Tahini Yogurt Sauce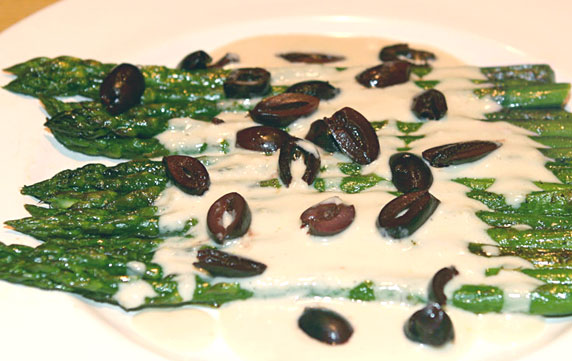 Tips:
Sauce can also be used over other green vegetables such as broccoli and green beans.
Asparagus Tahini with Greek Olives is a unique and wonderful asparagus recipe featuring sautéed crisp-tender asparagus spears liberally
drizzled with a mildly tart and full-flavored tahini and yogurt sauce made with plain yogurt, Tahini (also sometimes called sesame paste) freshly squeezed lemon juice, minced garlic and honey. The spears are then topped with sliced kalamata (Greek) olives, giving this vegetable dish the perfect added touch of flavor.
The asparagus spears are cooked for a short time in a skillet using a little amount water and butter. This is a great method for cooking asparagus, because it gives the spears a tender texture inside and a delightful lightly browned crispness outside. This tahini sauce recipe (tahini is a paste made from sesame seeds, just as peanut butter is made from peanuts) can also be served with a variety of other vegetables as well, with or without the kalamata olives.
Ingredients
1 bunch asparagus
1 tablespoon butter
1 tablespoon olive oil
1/3 cup water
1/4 cup plain yogurt
1 tablespoon tahini (or sesame paste)
1 1/2 teaspoons freshly squeezed lemon juice
1 clove garlic, minced
1/4 teaspoon honey
1/2 cup sliced kalamata (Greek) olives
salt to taste
Directions
In a small bowl, combine yogurt, tahini, lemon juice, garlic, honey and salt. Whisk until well blended. Set aside.

Break off thick ends of asparagus (the toughest portion will break off when you gently bend the asparagus). Clean. Heat butter and oil on medium-high heat in large skillet and add asparagus spears. Pour water over asparagus spears and cook, uncovered, for about 7 minutes. Continue cooking as water evaporates, allowing asparagus to brown slightly (about 1-2 minutes). Turn asparagus to brown on opposite sides. Remove from skillet and place on serving dish. Pour Tahini Yogurt Sauce over spears and sprinkle sliced kalamata olives over the top.
Other recipes you might like: