Au Gratin Potatoes with Crumb Topping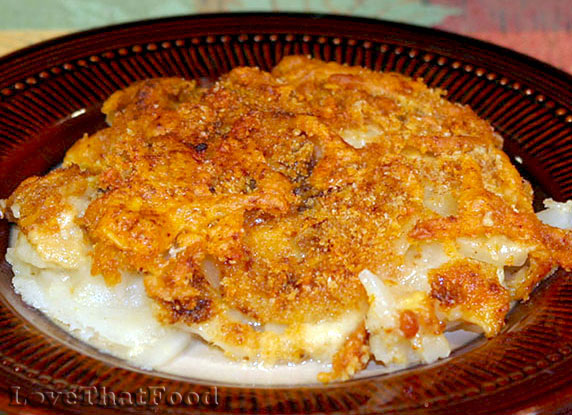 Cook Time:
1 hour, 40 minutes
Tips:
Individual leftover servings easily reheat in about 1 minute in the microwave.
Suggestion:
Serve as a side dish for most any meal, or as a main course as a meatless dish.
This delicious Au Gratin Potatoes with Crumb Topping recipe makes a great
side dish for most any meal, and features a wonderful mixture of cheesy, creamy and crunchy. Also often referred to as Scalloped Potatoes, Potatoes Au Gratin or Gratin Potatoes, this potato and cheese casserole features thin slices of potatoes baked with a creamy cheddar cheese sauce that whips up on the stove in just minutes. A flavorful mixture of even more cheddar cheese and seasoned bread crumbs are sprinkled over the top and baked until golden, adding a wonderful crispy crunch and enormous flavor! This potato recipe also reheats very nicely in the microwave, while still keeping that crispy crunch. While this dish is usually served
Ingredients
2 lbs. potatoes (about 4 large or 6 medium)
1 small onion, chopped (about 1/2 cup)
1/4 cup butter
1 tablespoon flour
1 teaspoon salt
1/4 teaspoon pepper
2 cups milk
2 1/2 cups shredded sharp cheddar cheese (about 10 oz.)
1/2 cup fine dry bread crumbs
paprika
Directions
Preheat oven to 325° F.

Peel potatoes and slice into enough thin slices (about 1/8-inch-thick) to measure about 4 cups.

Melt butter in a medium saucepan, then add onion. Cook on medium until tender (about 3-4 minutes), stirring frequently. Add flour, salt and pepper and cook over low heat, stirring constantly until mixture becomes bubbly throughout. Remove from heat. Stir in milk and 1 1/2 cups of the cheese. Heat to boiling, stirring constantly. Boil and stir for 1 minute, then remove from heat.

Place potatoes in an ungreased 1 1/2-quart casserole dish. Pour cheese sauce over potatoes. Cook uncovered for 1 hour and 20 minutes.

After the 1 hour and 20 minutes of baking, remove casserole dish from oven and sprinkle cheese and bread crumb mixture evenly over the top. Sprinkle lightly with paprika over the top. Return to oven, uncovered, and bake for an additional 20 minutes or until top is lightly browned and bubbly.
Other recipes you might like: