Broccoli Vinaigrette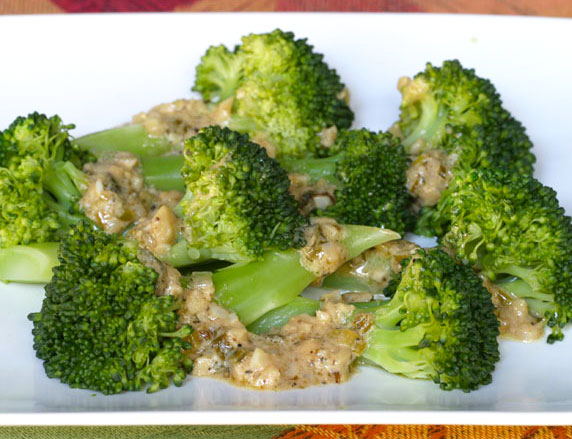 Tips:
Cutting the broccoli spears at an angle gives them added visual appeal.
Suggestion:
Serve as a side dish to most any main course.
This Broccoli Vinaigrette recipe is a wonderful way to add elegance
and delicious tangy flavor to broccoli. This broccoli recipe features broccoli spears cooked until tender yet still sligthly firm. (Note: The above photo shows broccoli cut into spears, which presents a dramatic visual effect, though broccoli can be trimmed into smaller florets, if desired.) A tangy sauce is drizzled over the tops of the spears, giving them distinct and delightful flavor. Taking only only 3 minutes to prepare on the stove, this easy sauce is made with finely chopped green onions, minced garlic, red wine vinegar, Dijon mustard and an assortment of herbs and seasonings that add the perfect final touch. The sauce is drizzled over the spears, giving this broccoli dish elegance and outstanding flavor!
Ingredients
2 lbs. fresh broccoli spears
4 teaspoons extra virgin olive oil
1/4 cup finely chopped green onions
1/4 teaspoon dried tarragon
1/2 teaspoon dry mustard
3 cloves garlic, minced
2 tablespoons red wine vinegar
2 tablespoons water
1 tablespoon Dijon mustard
1/4 teaspoon pepper
1/8 teaspoon salt
Directions
Broccoli
Steam the broccoli spears using a
vegetable steamer
, covered, for 4-6 minutes or just as soon as you can pierce the floweret stems with a fork. Drain and place on serving plate. Cover with aluminum foil to keep warm and set aside.
Sauce
Heat olive oil in small saucepan over medium heat. Add green onions, tarragon, dry mustard and minced garlic, reduce heat to low and sauté for 3 minutes. Remove from heat and add the vinegar, Dijon mustard, pepper and salt, stirring with a wire whisk until blended. Drizzle sauce over broccoli. Drizzle sauce over individual servings (as shown in photo) or place all broccoli spears in a mixing bowl and toss gently with sauce to coat, then serve.
Other recipes you might like: