Soups and Stews
Rainy days are known for being the best time to throw together a pot of soup or stew (or chili), but who says you need a rainy day to treat yourself to a tasty hot bowl of delicious comfort food? Soup is always delicious no matter what the weather is like outside,
and makes you feel warm and cozy inside. It also almost always is very healthy, containing an assortment of ingredients often with packed with vitamins, minerals, proteins and more. Soup is one of the easiest meals to prepare, and most recipes make plenty for everyone, as well as abundant leftovers. It also stores well in the refrigerator or freezer, and is a cinch to reheat later (and in fact tends to gain more flavor after having been stored in the fridge overnight). Whether you enjoy soups that are chunky or creamy, mild or spicy, thick or brothy, there are endless varieties from which to choose. Below you will find soup recipes made with chicken, potato, vegetable, split pea, beans, ground beef, ground pork, turkey, cheese and more. You may also want to check out the
Bread
page for an accompanying bread for your soup or stew recipe.
Homemade Croutons
also taste fabulous sprinkled over soup, offering crunch and added flavor.
Soup and Stew Recipes ▼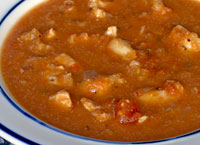 If you like
Chicken Satay with Peanut Sauce
(skewed grilled chicken served with a side of spicy peanut sauce for dipping), then you will love this soup! At first glance, a soup made with peanut butter might seem odd, but this
African Peanut Chicken Soup
made with chunks of chicken, chunky peanut butter, chicken broth, crushed tomatoes, sauteéd diced onions, minced garlic and fresh ginger with a pinch of cayenne delivers fabulous flavor!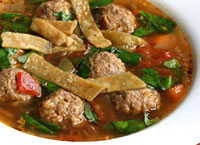 Albondigas Soup
is a brothy Mexican soup made with seasoned meatballs, vegetables and an assortment of spices that give it a mildly spicy and full flavor that will warm you up inside in more ways than one! This soup recipe features ground beef and ground pork meatballs, along with carrots, green bell pepper, onions, chipotle, garlic, spinach and a combination of beef and chicken broths, topped with cilantro and fried tortilla strips.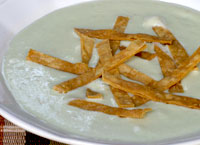 Though this pastel green soup would easily fall into the category of St. Patrick's Day food, there's no need for a holiday to celebrate this tangy and delicious
Avocado, Tomatillo and Green Chile soup
! This soup is traditionally eaten chilled, though is also delicious hot, and requires no cooking! This soup is made with avocado, tomatillo, green chiles, chicken broth and sour cream, and is topped with crispy fried tortilla strips.
This
Black Bean and Bacon soup recipe
is made like most other soups, but is pureed just before it is served, giving it a delightful creamy texture that contains the flavor of every ingredient with each bite and is great for dipping with Garlic Bread or any other bread. This soup starts with dried black beans and water, then combines celery, onion, green chiles and garlic and plenty of bacon. After 1 1/2 hours of cooking, the soup is pureed until creamy.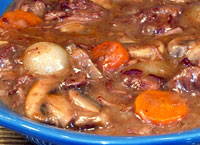 This
Boeuf Bourguignonne recipe
(a French term meaning, "Beef Burgundy") features an elegant French beef stew flavored with red wine and beef broth, filled with tender chunks of beef, crisp-cooked bacon pieces, chopped onions, pearl onions (small whole onions), mushrooms and sliced carrots. This particular recipe uses the slow-cooker method, and cooks for 4-6 hours, though you can also cook this on the stovetop.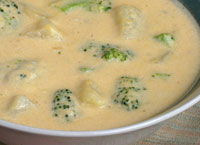 Broccoli Cheese Soup
is a creamy and delicious soup, full of cheesy flavor. This soup can be made with or without potatoes, or the potatoes can be substituted with cooked cauliflower florets, both of which nicely compliment the broccoli florets. The potatoes can be cooked in advance until you're ready to make the soup. Top this tasty soup with some
croutons
or serve it with a side of
bread
for the perfect final touch!