African Peanut Chicken Soup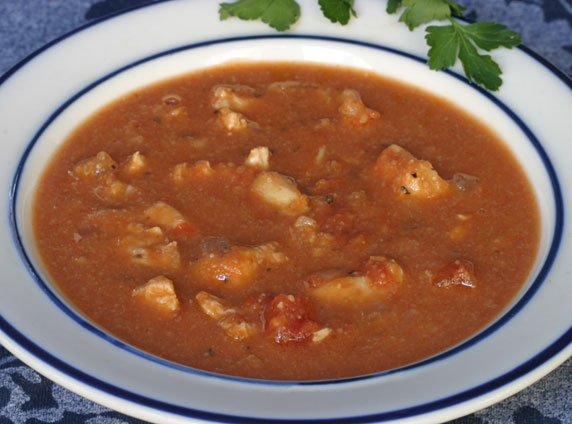 Cook Time:
About 15 minutes
Tips:
Chicken breast meat, dark chicken meat or a combination of both may be used.
Do you like
Chicken Satay with Peanut Sauce
(skewed grilled chicken served with a side of spicy peanut sauce for dipping)? If you do, then
you will love this soup! At first glance this soup might seem odd, but African Peanut Chicken Soup entertains a perfect blend of chicken broth, crushed tomatoes, sauteéd diced onions, minced garlic and minced fresh ginger root, chunks of chicken and yes, chunky peanut butter that delivers unique and fabulous flavor!
Spice lovers can add more "kick" to this soup simply by adding additional black pepper and cayenne pepper as desired (be sure to do taste tests after each addition). As indicated in "Tips" above, you can use all chicken breast meat, dark chicken meat, or a combination of both. You can opt to cut the chicken into chunks or shred it into pieces, which tends to give the chicken a more tender texture. This soup has wonderful full flavor that appeals to all ages!
Ingredients
2 tablespoons oil
1 large onion, diced
3-inch piece of ginger, peeled and minced
3-5 cloves garlic, minced
1 quart chicken broth or stock
1 15-oz. can crushed tomatoes
3/4 cup crunchy peanut butter
pinch of cayenne pepper (more may be added to taste just before serving, if desired)
2 cups (chopped or torn) cooked chicken (breast or dark meat or a combination of both)
salt and pepper to taste
Directions
Heat oil in a large soup pot over medium-high heat. When oil is hot, add onion to soup pot and sauté onion, stirring frequently, for 3-4 minutes or until tender. Add minced ginger root and minced garlic and sauté for an additional 1-2 minutes, stirring frequently.

Add chicken broth (or stock), crushed tomatoes, peanut butter and cayenne, and stir well to combine. Stir in salt and pepper. Heat to boiling, then reduce heat to a simmer. Cover soup pot and simmer over low heat for 5-10 minutes.

Add chicken to the soup and heat, stirring occasionally, until warmed through (about 3 minutes). Add a little more black pepper and/or cayenne pepper if more spice is desired.
Other recipes you might like: