Chili Chicken Bean Soup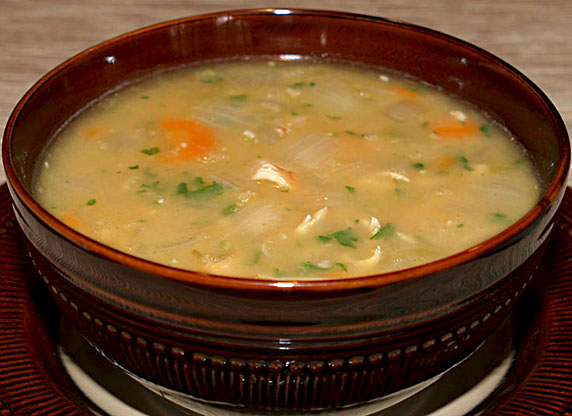 Yield:
8-10 servings or about 12 cups
Tips:
Eat some now, freeze some for later!
Suggestion:
Delicious topped with
Croutons
and/or shredded cheese.
Chili Chicken Bean Soup is a unique and wonderfully-flavored variation from traditional chicken soup that might entertain chicken, noodles or rice, carrots, celery and broth. This chicken soup recipe is made with shredded (or cubed) chicken breast,
onion, carrots, garlic, Great Northern beans and mild green chiles.
Aside from the ingredients, what also gives this soup its wonderful flavor and consistency is the broth, which combines chicken broth seasoned with chicken bouillon, cumin and a small amount of cayenne pepper. The broth is then thickened slightly using a paste made with milk, flour and small amount of smashed Great Northern beans. This gives the broth an attractive light and golden and somewhat translucent color. Just before serving, fresh chopped cilantro is stirred into the broth, giving the soup even more color and a fabulous combination of flavors that blend perfectly. Top Chili Chicken Bean Soup with croutons (homemade or prepackaged) and/or shredded cheddar cheese, and you'll have a soup that impresses in both appearance and flavor!
Ingredients
1 tablespoon butter
4 skinned and boned chicken breast halves, shredded or cubed into bite-size pieces
1 large onion, chopped
3 carrots, chopped
2 garlic cloves, minced
2 (14-oz.) cans chicken broth
1 chicken bouillon cube or 1 tablespoon chicken granules
1 teaspoon ground cumin
1/4 teaspoon ground cayenne pepper
3 (16-oz) cans great Northern beans, rinsed, drained, and divided
1 (4.5-ounce) can chopped green chiles
2 tablespoons all-purpose flour
1/2 cup milk
1/4 cup fresh cilantro, chopped
Directions
In a large soup pot, melt butter on medium-high heat. Once butter is melted, add chicken, onion, carrots and garlic and sauté for 10 minutes or until no pink is left in chicken, stirring occasionally. Stir in broth, chicken bouillon cube (or chicken granules), cumin and red pepper. Bring to a boil, then reduce heat and simmer, stirring occasionally, for 20 minutes. Stir in 2 cans of beans and green chiles.

In a small bowl, mash remaining can of beans with a fork. In a separate small bowl, whisk together flour and milk, then stir milk and flour mixture into mashed beans. Gradually add bean mixture to soup mixture, stirring constantly until well blended.

Cook 10 minutes or until thickened. Remove from heat, then stir in cilantro. Garnish top with as croutons (homemade or prepackaged) and/or shredded cheese.
Other recipes you might like: