Chicken, Spinach and Orzo Soup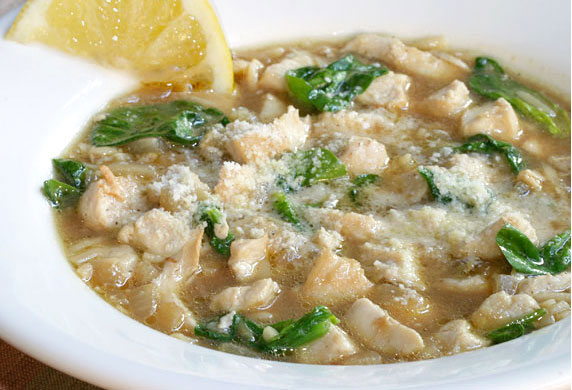 Tips:
Torn regular spinach leaves can be used in place of baby spinach leaves if desired.
Chicken, Spinach and Orzo Soup is one of the easiest and quickest soup recipes you will ever make, uses only a few ingredients (making it very economical), yet delivers a wonderfully fresh and delicious flavor. Perhaps the secret to the uniqueness
of this soup is the addition of cinnamon and coriander to the broth, as well as some freshly squeezed lemon juice. As a final touch of freshness and flavor, fresh baby spinach is placed in each serving bowl just before ladling the soup into the bowl. Garnishes of Parmesan cheese and lemon wedges give this soup the perfect final touch.
Orzo is a pasta that looks very much like rice. The beauty of orzo is that it adds the element of pasta without overpowering the soup, because of it's small size.
Depending on the grocer and the packaging, baby spinach might be a little more costly than a fresh regular bunch of spinach. So, if you'd prefer to keep your budget at a minimum with this soup, simply purchase a bunch of fresh spinach and use the smallest leaves in the bunch, or tear the larger leaves into halves or thirds.
Ingredients
Soup

4 boneless, skinless chicken breast halves, cut into bite-size cubes
salt and pepper
2 tablespoons olive oil
1 onion, diced
2-4 cloves garlic, minced
1 teaspoon ground coriander
pinch of ground cinnamon
1 32-oz. container chicken broth
2/3 cup uncooked orzo
1 tablespoon freshly squeezed lemon juice
2 cups fresh baby (or torn larger leaves) spinach



Garnish

1/3 cup grated Parmesan cheese
6 lemon wedges
Directions
Season chicken with salt and pepper. In a 4-quart soup pot or saucepan, heat olive oil over medium-high heat. When oil is hot, add chicken cubes and sear just until lightly browned. Remove chicken and place in a bowl, then cover with aluminum foil to keep warm. Set aside.

Reduce heat to medium, then add onion and sauté until soft (about 5 minutes). Add garlic, coriander and cinnamon and stir and cook for 1 minute longer. Add broth and bring to a boil. Add orzo and reduce to medium-high heat. Cover and cook on a low boil until tender (about 8-10 minutes).

Add chicken, then bring soup to a boil and cook for 1 minute. Remove from heat and add lemon juice. Season with salt and pepper to taste.

Divide spinach among 6 bowls, then ladle hot soup over spinach and serve immediately. Garnish with Parmesan cheese and lemon wedges.
Other recipes you might like: