Spiced Chicken, Lentil and Barley Soup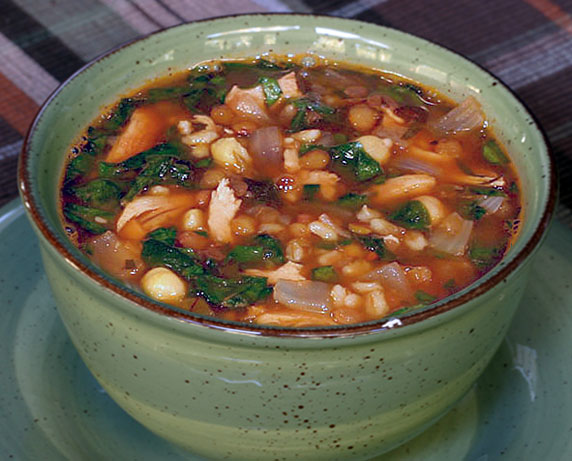 This Spiced Lentil & Barley Soup is not only delicious and packed with flavor (and don't worry - it's only mildly spicy), it is very good for you! While the lentils are loaded with with high levels of protein, including essential amino acids, the spinach offers antioxidants,
a long list of vitamins and minerals as well as omega-3 fatty acids. Barley is a chewy grain that also provides nutritional value, containing eight essential amino acids. Add to these healthy ingredients some shredded chicken breast, garbanzo beans, onions and garlic, and you've got a soup that will please your pallet and boost your health!
The "spice" that comes into play with this soup recipe is simply some bottled salsa, so you have total control over the spice level (by choosing mild, medium or hot salsa) as well as whether the salsa is chunky or smooth. This soup is very easy to make and cooks in only about 40 minutes. Though I have not personally tried this soup vegetarian style, if you prefer to make this soup without meat, you can probably simply omit the chicken and use vegetable broth instead of chicken broth, while seasoning with salt and pepper to taste.
Ingredients
2 boneless, skinless chicken breasts
1 tablespoon olive oil
1 medium onion, chopped
3 cloves garlic, minced
1/2 cup pearl barley
2 quarts (8 cups) chicken broth
1 cup minced parsley
1 cup lentils
1 15 oz. can garbanzo beans, drained and rinsed (unwanted skins removed)
1 12-oz. salsa
1 lb. spinach, rinsed and stems removed, then chopped
Directions
Remove any unwanted parts from chicken and rinse. Pat dry and set aside.

In a large soup pot, heat olive oil. Add onion, garlic and barley. Cook, stirring often, until onion is tender and barley is toasted (about 5 minutes). Add broth, parsley, chicken and lentils.

Bring to a boil over high heat. Reduce heat, then cover and simmer until meat in thickest part of chicken is no longer pink (about 30 minutes). Remove a piece of chicken and cut in the thickest part to check doneness. Barley should also be tender to the bite.

When all pink is gone from chicken, remove chicken from pot and allow to cool enough to handle. Shred chicken into bite-size pieces and return to pot. Add garbanzo beans and salsa and briefly stir to mix. Bring to a simmer to heat through, then stir in spinach.
Other recipes you might like: