Chicken Satay with Peanut Sauce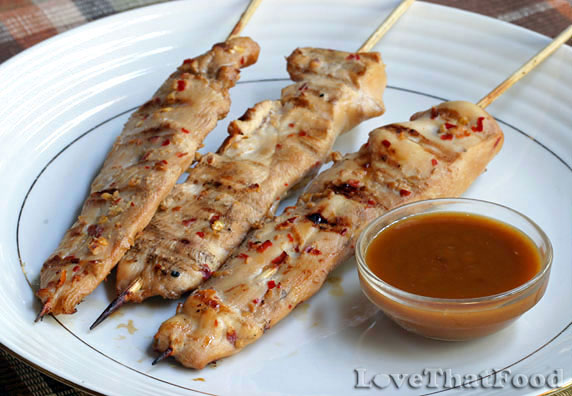 Tips:
If you like to dip liberally, simply make a double batch of Peanut Sauce. To thin sauce, add a small amount of water.
Suggestion:
Delicious served with a
vegetable
and rice.
Chicken Satay with Peanut Sauce is an easy and fun dish to make that only takes a few minutes to cook on the grill. Tender thin strips of chicken breast are marinated (30 minutes to overnight) in a sauce made with soy sauce, lime juice, fresh garlic,
fresh ginger root and red pepper flakes. The marinated chicken strips are then pierced with wooden skewers (often called bamboo skewers, kabob skewers and/or barbecue skewers) and placed on the grill until they turn a nice golden brown (about 3-4 minutes per side). These tender and juicy skewered chicken strips are then served with a delicious mildly spicy peanut dipping sauce (the sauce can be adjusted to your spice preference) made with peanut butter and other assorted ingredients that give it an Asian flair and fabulous flavor. Both the chicken strips and peanut sauce can be made in advance and stored in the refrigerator for days until you're ready to grill. Chicken Satay can also be served with Lettuce Wraps, featuring butter lettuce leaves wrapped around Chicken Satay and topped with julienned carrots, marinated cucumbers, bean sprouts and Curry Noodles as well as two additional dipping sauces.
Ingredients
Chicken Satay

2 boneless, skinless chicken breasts (about 1 to 1 1/2 lbs.)
1/4 cup soy sauce
2 tablespoons fresh lime juice
2 cloves garlic, minced
1 teaspoon grated fresh ginger
3/4 teaspoon red pepper flakes
2 tablespoons water
10 12-inch wood skewers



Peanut Sauce

1/4 cup creamy peanut butter
3 tablespoons water
2 tablespoons brown sugar
1 tablespoon soy sauce
1 teaspoon rice vinegar
1 teaspoon lime juice
1/2 teaspoon chili oil
1/2 teaspoon chili garlic sauce (may increase up to 1 teaspoon if you prefer more spice)
Directions
Chicken Satay
Remove unwanted fat from chicken breasts and slice into 3-6-inch-long x 1-inch-wide x 1/4 to 1/2-inch-thick strips (sizes and shapes will vary due to shape of chicken breasts). Place chicken strips in a 9x9-inch glass baking dish or other similar-shaped container. In a small mixing bowl, whisk together soy sauce, lime juice, garlic, ginger, red pepper flakes and water. Pour mixture over chicken and cover. Place in refrigerator for 30 minutes or more (can marinate overnight).
After chicken has marinated, prepare barbeque grill for direct cooking, leaving a small area (about 5 inches) with no coals so wooden skewers won't burn. While coals are heating, prepare chicken.
Pierce chicken strips with wooden skewers lengthwise through the center in an accordion-like fashion, trying to keep skewers hidden in chicken. Adjust skewered chicken to make fairly flat. Place skewered chicken on a plate to transfer to grill. Reserve the marinade for basting chicken during grilling. You can skewer more than one chicken strip on a skewer if the chicken pieces are small.
Place a glass of ice water near barbecue. Dip exposed part of skewers in ice water (this will help prevent the skewers from burning), then place chicken on the open grill (do not cover with barbecue lid) with skewers over area with no coals. Brush chicken pieces liberally with marinade on one side, then quickly turn to grill that marinated side. While first side of chicken is grilling, brush the other side liberally with marinade then discard the remaining marinade (do not marinate again). Once chicken has cooked on first side (about 3-4 minutes), turn over and grill second side until chicken has no pink color and is nicely lightly browned (about another 3-4 minutes). Do not overcook, as this will result in tough, dry chicken strips.
Serve on skewers with small individual bowls of Spicy Peanut Sauce (recipe follows).
Peanut Sauce
To a small sauce pan, add peanut butter, water, sugar, soy sauce, rice vinegar, lime juice, chili oil and chili garlic sauce. Heat just until mixture starts to bubble, then cover and promptly remove from heat. Serve immediately in individual serving bowls or store in refrigerator and reheat when ready to serve.
Other recipes you might like: