Nutty Chicken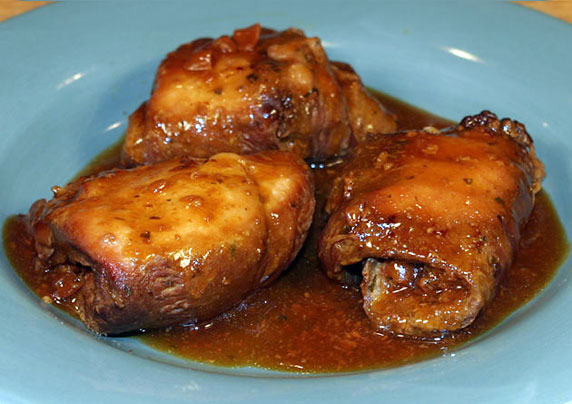 Tips:
Filling and Sauce may be prepared and refrigerated the day before cooking.
Suggestion:
Serve with wild a side of a wild rice mix, brown rice or other rice and a vegetable or salad..
As with many other slow cooker dishes, Nutty Chicken is very easy to make. In just 4 hours you will have a richly colorful and elegant chicken dish that will be enjoyed by all
ages. It's just a matter of spreading a mixture made with peanut butter on thinly sliced chicken breasts, folding the breasts in half, then placing the breasts in the slow cooker. Simply pour a sauce mixture over the chicken breasts, and start your cooker!
The nutty filling for the chicken breasts has a slightly Asian flair and is made with peanut butter, chopped peanuts, garlic, soy sauce, ginger, and red pepper sauce and a few other flavor enhancers. The sauce is made with chicken broth and flavored with honey and soy sauce, and is thickened at the end of the cooking process, giving the filled chicken breasts the perfect glaze, moisture and flavor. Nutty Chicken goes perfectly with a side of wild rice blend (a mixture of various types of rice such as brown, wild, long grain, red, etc.), but any single type of rice works just as well.
Ingredients
4 boneless and skinless chicken breasts



Peanuty Spread

1/4 cup peanut butter (smooth or nutty)
2 tablespoons chopped peanuts
2 tablespoons soy sauce
1 tablespoon instant minced onion
1 tablespoon chopped fresh parsley (or 1 teaspoon dried parsley)
2-3 cloves garlic, minced
4-5 shakes of red pepper sauce (such as Tabasco)
1/8 teaspoon ground ginger



Sauce

2 tablespoons soy sauce
2 tablespoons honey
1 tablespoon melted butter
1 10 1/2-oz. can chicken broth
1 1/2 tablespoons cornstarch (1 tablespoon plus 1 1/2 tablespoons)
Directions
Spread
In a small mixing bowl, add peanut butter, peanuts, soy sauce, onion, parsley, garlic, red pepper sauce and ginger. Stir with a fork until blended. Set aside.
Sauce
In a medium mixing bowl, combine soy sauce, honey, melted butter and chicken broth and stir to blend. Set aside.
Preparation
Trim any unwanted fat off chicken breasts. Slice each chicken breast in half sideways through the center, creating 2 thinner pieces. Spread Peanuty Spread on one half of each breast, then fold each breast over and pierce with 1 or more toothpicks (use only as needed) to secure. Place folded breasts in slow cooker (with toothpicks). Pour sauce over chicken breasts and cook on low for about 4 hours. 15 minutes before serving, remove chicken breasts (but not the sauce) from slow cooker and place on a plate. Cover breasts with aluminum foil to keep warm.
In a small mixing bowl, combine cornstarch with a small amount of water (just enough so it will pour). Pour cornstarch and water mixture into sauce in slow cooker, stirring constantly to mix. Turn slow cooker to high and cook for 15 minutes until sauce thickens. (Note: You can also heat the sauce with the cornstarch in a small saucepan over the stove on medium-high heat, which will thicken the sauce in about 3-5 minutes.)
Serve chicken with sauce and a side of wild rice mix or brown rice.
Other recipes you might like: