Chicken Curry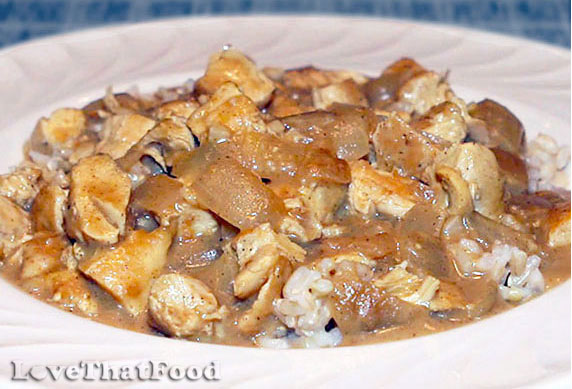 Chicken Curry (also referred to as Curry Chicken) has uniquely delicious flavor, created with the help of some spices commonly used in Indian and other cuisines as well as some other
ingredients you may likely already have in your kitchen.
There are quite a variety of Indian Chicken Curry recipes out there, as well as many modified versions of Chicken Curry. Though ingredients can vary, most curry recipes include curry powder, cumin, cinnamon and cardamom to achieve that unmistakable curry flavor.
This chicken curry recipe features diced chicken (chicken breast, dark chicken meat or a mixture of both can be used) and onions cooked together with a delicious sauce that tastes wonderful over a bed of rice. The photo above shows this Indian chicken dish served over brown rice, but any type of rice will accompany this dish beautifully as well, especially brown or white Basmati rice.
Ingredients
3 cups chicken stock
2 cups cooked, diced chicken
1/4 teaspoon ginger
1 teaspoon salt
2 tablespoons olive oil
1 1/2 cups chopped onions
2 cloves garlic, minced
1 tablespoon peanut butter
1 teaspoon curry powder
1 cup milk
2 tablespoons flour
2 tablespoons lemon juice
1/4 teaspoon ground cardamom
1/4 teaspoon ground cloves
1/2 teaspoon cinnamon
Directions
Pour chicken stock into a large skillet. Add ginger, salt and chicken pieces. Heat to boiling, then reduce to simmer and cover. Cook for about 30 minutes or until stock is reduced to about 2 cups.

In a small skillet, heat the oil, then add onions and cook until tender and golden in color. Add garlic, peanut butter, curry powder and milk and stir until thoroughly blended. Cook the onion mixture over low heat for about 4 minutes.

In a small bowl, mix flour with a small amount of water (enough water to make a smooth, runny paste - about 2 tablespoons). Remove chicken pieces from the stock. Slowly add flour mixture to stock, stirring constantly to prevent lumps from forming. Turn heat to medium-high and cook, stirring constantly until stock becomes thickened and bubbly.

After stock has thickened, reduce heat to low-medium. Pour onion mixture into the thickened stock and stir until well-blended. Add lemon juice, cardamom, ground cloves and cinnamon, and stir again until well-blended.

Serve over rice or pasta.
Other recipes you might like: