Chicken Fricassee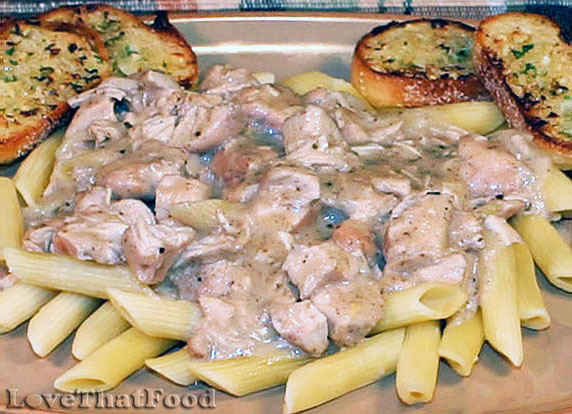 Cook Time:
About 40 minutes
Tips:
To thicken sauce, cook a little longer, stirring frequently, or make a little more flour paste and stir it into the sauce and stir until you reach desired consistency.
This Chicken Fricassee recipe produces an elegant gourmet meal that is easy to prepare and takes only a little over a half an hour cooking time. With the flavors of Burgundy, light cream and an
assortment of herbs and spices, this chicken dish will truly please your pallet. The Burgundy adds a unique flavor that is not too strong, so children will like this as well. The alcohol in the wine cooks away as this dish simmers, of course, but the subtle flavor remains.
This chicken dish is easy to make because there is very minimal chopping and cutting, and the chicken requires no assistance while cooking in the broth. Chicken Fricassee can be served over any pasta shape or any type of rice, and is perfectly complimented when served with a side of mini garlic bread slices (which are fantastic for dipping into the sauce). A salad or vegetable also accompanies this pasta or rice dish nicely. To keep things simple and easy, you can always just steam some vegetables in a vegetable steamer, which takes only minutes
Ingredients
1 3/4 - 2 lbs. chicken breasts (or 2 whole skinless, boneless chicken breasts)
salt and pepper to taste
1/2 cup butter (1 stick)
1 teaspoon dried thyme leaves
1 teaspoon dried marjoram leaves
1 large onion, studded with 12 cloves
1/2 lemon
3/4 cup Burgundy
1/8 teaspoon nutmeg
1 cup half and half cream
1/4 cup all-purpose flour
3 egg yolks, beaten
Directions
Cut onion with cloves in half and place in a large saucepan flat sides down. Season the chicken breasts with salt and pepper and arrange in saucepan around onion halves. Add butter, thyme, marjoram, lemon, Burgundy and nutmeg. Add enough water to cover ingredients.

Bring to a boil, then reduce heat. Cover and simmer for about 30 minutes or until chicken is very tender. Discard lemon and onion halves. Remove chicken from the broth and place on a cutting board, allowing to cool enough to handle. Chop the chicken into bite-size pieces.

Mix enough half and half into the flour to make a smooth thin paste (similar to the consistency of a thin milkshake). Gradually pour flour paste into broth, stirring constantly as it enters the broth. Combine the egg yolks with the remaining half and half and gradually blend into broth, stirring constantly.

Cook over medium heat, stirring constantly until thickened. Add chicken pieces and stir in gently. Season to taste with salt and pepper and heat through. Serve over rice or pasta and garnish with croutons or small crusty garlic bread slices.
Other recipes you might like: