Chicken with Basil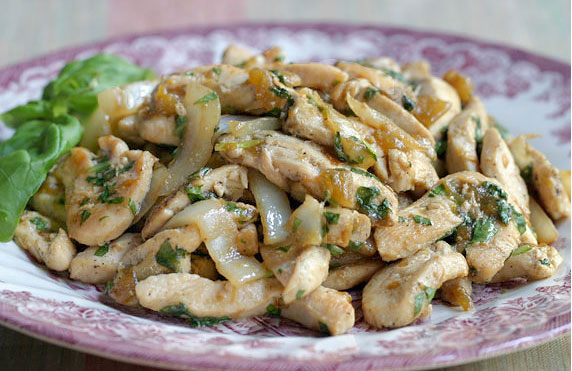 Cook Time:
About 12 minutes
Tips:
Adding additional garlic is not recommended, as it can overpower the flavors of basil and mint.
Suggestion:
Delicious served alone or over rice.
Chicken with Basil is a fresh and simplistic chicken stir-fry recipe powerfully flavored with fresh basil, mint leaves and diced green chiles. Onions and garlic also play a part in making this chicken recipe so delicious. This easy stir-fry recipe cooks up in just minutes. Chicken breasts are sliced and cooked until tender, the onions and garlic are sautéed until tender, then a mild and tangy
sauce made with chopped fresh basil and mint leaves, diced chiles, soy sauce, vinegar and a hint of sugar is stirred in with the chicken and onion mixture.
This Chicken with Basil recipe was inspired by a Thai chicken recipe, though the basil used for this recipe differs from basil commonly used for cooking in Thailand. Thai basil has purple-stemmed basil leaves with a flavor similar to licorice or anise. The basil used with this recipe is the more traditional basil found in the produce section of grocery stores, and is recognized by its amazingly fresh fragrance and flavor. (Tip: I recommend buying a small pot of live growing basil if available, because it will provide you with fresh basil for a much longer time than the trimmed basil leaves packaged in small plastic containers.) Chicken with Basil is not only delicious and fresh-tasting, it will allow you to experience how beautifully basil, mint and chiles taste when mingled together!
Ingredients
Sauce

1/4 cup diced green chiles
2 tablespoons soy sauce
1 teaspoon sugar
1 teaspoon vinegar
1/2 cup chopped fresh basil
1 teaspoon chopped fresh mint
1/2 teaspoon cornstarch



Chicken

4 tablespoons salad oil, divided (and more if needed)
1 clove garlic, minced
2 lbs. boneless, skinless chicken breasts, cut into strips (about 2-inches long x 1/4-inch thick)
1 large onion, cut into 1/4-inch slices
Directions
Sauce
Mix together chiles, soy sauce, sugar, vinegar, basil, mint and cornstarch. Set aside.
Chicken
Heat about 1 1/2 tablespoons of oil in a large skillet or wok. When oil is hot, add half of the chicken and stir-fry on medium-high until no pink color remains (about 3-5 minutes). Remove chicken from skillet and set aside on a plate, then cover with aluminum foil to keep warm. Heat another 1 1/2 tablespoons of oil in skillet, then add remaining chicken and cook as you cooked the first batch. Add second batch of cooked chicken to plate of chicken and recover with aluminum foil.
Heat 1 tablespoon oil in skillet. Add onion and stir-fry until tender (about 3 minutes). Add garlic and stir-fry with onion for about 1 minute longer. Return cooked chicken to skillet and stir to combine chicken with onion and garlic mixture. Add Sauce and stir until sauce boils and thickens slightly (about 1 minute). Serve immediately alone or over rice.
Other recipes you might like: