Cashew Chicken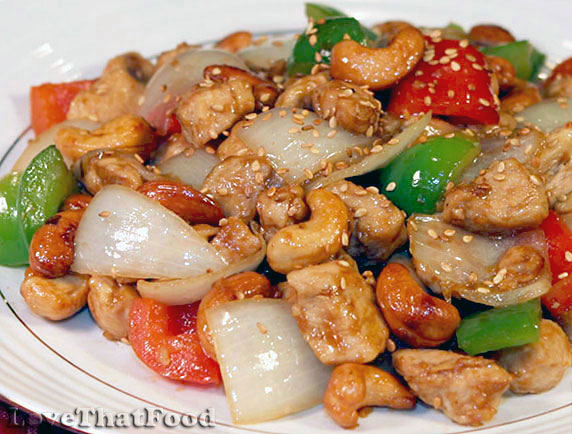 Cook Time:
About 8 minutes
Tips:
Peanuts, almonds or halved walnuts may substitute peanuts for cashews if desired. Other vegetables may also be substituted for bell peppers and/or onions.
Suggestion:
Serve alone or over any rice.
This Cashew Chicken recipe is fresh, light and healthy, and stir-fries in only 8 minutes! The bites of chicken are coated with a mixture of soy sauce and cornstarch to add some mild flavor and a light coating that turns the chicken to a tender golden brown.
The cashews are also briefly stir-fried, which tenderizes them and gives them a toasty brown color. Chunks of red and green bell peppers and onions are then stir-fried together with some minced fresh ginger root and are cooked just until crisp-tender (you can use ground ginger instead, but ginger root offers the freshest flavor and is recommended). This colorful mixture is then quickly cooked with an mild Asian sauce that adds just the right amount of flavor to this healthy chicken stir-fry recipe. As with most stir-fry recipes, you can easily adjust this recipe to your own personal taste. For example, peanuts, almonds or walnut halves can be used instead of cashews, or you can substitute any other vegetable for the bell pepper (such as broccoli, baby corn, snow peas, etc.). The photo above shows Cashew Chicken topped with a light sprinkle of toasted sesame seeds (optional), which gives this dish added color and flavor and a nice crunch.
Ingredients
Cooking Sauce

1/2 teaspoon cornstarch
1 dash hot pepper sauce (such as Tabasco)
3/4 teaspoon sugar
3/4 teaspoon white wine vinegar
1 teaspoon dry sherry (or water)
1 tablespoon soy sauce



Cashew Chicken

1 tablespoons soy sauce
1 teaspoons cornstarch
1 lb. skinless and boneless chicken breast (about 2 whole breasts), cut into bite-sized pieces
3 tablespoons oil
1/2 cup salted roasted cashews
1 medium-sized green or red bell pepper (or 1/2 green and 1/2 red), cut into 1-inch squares
1 medium-sized onion, cut in half, then each half cut into 8 wedges, layers separated
1/2 teaspoon minced fresh ginger root (or 1/4 teaspoon ground ginger)
Directions
Cooking Sauce
In a small mixing bowl, whisk together all Cooking Sauce ingredients. Set aside.
Cashew Chicken
In a small mixing bowl, whisk together soy sauce and cornstarch. Place uncooked chicken pieces in a medium mixing bowl, then pour soy sauce mixture over chicken and stir to combine. Set aside.
Heat a large skillet (or wok) over medium-high heat. When hot, add oil. When oil is hot (but not smoking), add cashews and stir until browned (about 1 minute). (Note: Cashews will cook quickly without making any sizzling sounds, so watch closely.) Remove cashews with a slotted spoon and set aside.
Add chicken to skillet and stir-fry on medium-high until meat no longer has any pink color (about 3-5 minutes). Remove chicken and place in a clean bowl. Set aside.
Heat remaining 1 tablespoon oil in skillet. When oil is hot, add bell pepper, onion and ginger root (or ground ginger) and stir-fry until bell peppers are tender- crisp to the bite (about 4 minutes). Return chicken to skillet, stirring to combine with peppers and onion. Briefly stir Cooking Sauce then add to skillet and stir until sauce boils and thickens (about 1 minute). Stir in cashews. Serve alone or over rice. Garnish with toasted sesame seeds if desired.
Other recipes you might like: