Chicken Curry Stir-Fry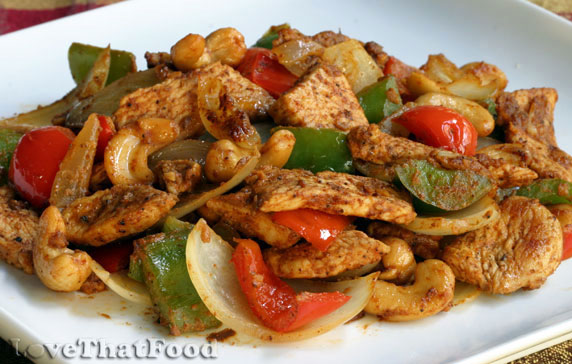 Tips:
Garnishing with snipped chives or green onion tops is optional. Spice level can be adjusted to your liking by using hot, medium or mild curry paste.
Suggestion:
Delicious served by itself or with rice.
Chicken Curry Stir-Fry is as easy to make as most other stir-fry recipes (taking only 8-9 minutes to cook) and is just as light, healthy and delicious!
This chicken stir-fry recipe is flavored with an Indian flair and features slices of chicken breast, red and green bell pepper, onions, and cashews. While the vegetables are sauteeing, the chicken is briefly marinated with a mixture of plain yogurt, curry paste (hot, medium or mild), minced ginger root, paprika, freshly squeezed lime juice and crushed garlic. Once the vegetables have sauteed for a couple minutes, the chicken is cooked separately (just 4-5 minutes), then is added to the tender-crisp vegetables and stir-fried again for a couple more minutes with a small amount of water. Dinner can't get much easier than this! If desired, serve with snipped chives or scallions (green onion tops). This dish is delicious served all by itself or with rice.
Ingredients
4 bonesless, skinless chicken breasts
1/4 cup plus 2 tablespoons plain yogurt
2 tablespoons freshly squeezed lime juice
2 garlic cloves, crushed
2-inch piece of ginger root, minced
2 tablespoons medium or hot curry paste
1 tablespoon paprika
1/4 cup plus 1 tablespoon ghee or oil
1 onion, quartered and layers separated
1 red bell pepper, deseeded and chopped into bite-size pieces
1 green bell pepper, deseeded and chopped into bite-size pieces
1/3 cup cashews (salted or unsalted)
1/4 cup water
1/4 teaspoon salt (or salt to taste)
snipped chives or green onion tops (for garnish)
Directions
Cut chicken breasts into 1/2-inch-wide by 1/4-inch-thick strips (2-3 inches long) and place in a medium mixing bowl. Add yogurt, lime juice, garlic, ginger root, curry paste and paprika and stir until thoroughly combined.

Heat ghee or oil in a large skillet. Add onion, red and green bell peppers and cashews and stir over a moderate heat for 2 minutes. Remove vegetables from the skillet and reserve.

Place chicken mixture in skillet and stir-fry for 4-5 minutes until well sealed and cooked through.

Stir in water, then return vegetables to the skillet. Reduce the heat, and cook gently for 2 minutes. Serve immediately. Garnish with chives or scallion tops if desired.
Other recipes you might like: