Garlic Bread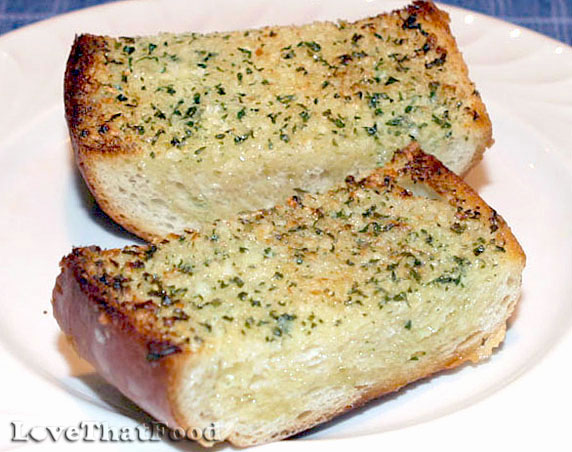 Yield:
About 1 cup of garlic butter and 1 loaf of bread, depending on size of loaf.
Cook Time:
Broiler method: 2-3 minutes; Bake method: 15 minutes.
Tips:
Garlic butter can be stored in the refrigerator for weeks.
Suggestion:
Delicious served with most any main course, soup or salad.
Homemade Garlic Bread is so easy to make, and has a fresh taste that can't be beat. All you need to make this Garlic Bread recipe is a loaf (or a few individual slices) of any bread of your choice (sourdough, French, Ciabatta, or any other bread will do) and the delicious garlic bread spread in this recipe. The beauty of making your own garlic bread is that you can make it on demand,
and it will always taste fresh. The herbed garlic butter will stay fresh in the refrigerator for a few weeks. So, if you have some bread handy in the freezer or on the countertop (loaves of bread can stay soft and fresh in an air tight bag or container at room temperature for a number of days), then you can whip up some fantastic garlic bread at a moment's notice!
This garlic butter recipe calls for just a few ingredients (butter, herbs, olive oil, lemon juice and coarse or regular table salt), and can be made in just minutes. Once prepared, you can store the garlic butter in the refrigerator for future use. The trick is to bring your butter to room temperature before adding the other ingredients, and everything will blend with ease. Once you've made this Garlic Bread spread a few times, you'll probably be able to make it with your eyes closed. PS: If you'd like to taste the true definition of fresh, try making this Garlic Bread using a loaf of your own homemade Crusty French Bread (shown below) .
Ingredients
1/2 lb. (2 sticks) butter, softened
4 cloves garlic, minced
2 tablespoon olive oil
1 teaspoon freshly squeezed lemon juice
1/2 teaspoon coarse salt (regular table salt may also be used)
2 tablespoons fresh flat (Italian) parsley, finely chopped
Directions
Place the minced garlic on a flat work surface and place the salt on top of the garlic. Using the flat side of a large knife, smash the salt into the garlic until it forms a rough paste. Transfer garlic and salt paste into a small mixing bowl. Add butter, olive oil and parsley, and mix with fork until very well blended.
Cook your bread using one of the following methods:
Broil Method
(gives the bread a browned and slightly crunchy top)
Slice loaf in half lengthwise or into individual slices and apply spread to each loaf half or each slice, then broil until light golden brown (about 2-3 minutes).
Bake Method
(warms the bread, yet produces a softer result)
Cut loaf either of the two ways mentioned above, and place entire loaf in a large sheet of aluminum foil, wrapping around entire loaf to seal. Cook in a preheated 350° F oven for 15 minutes.
Other recipes you might like: