Chicken Garbanzo Soup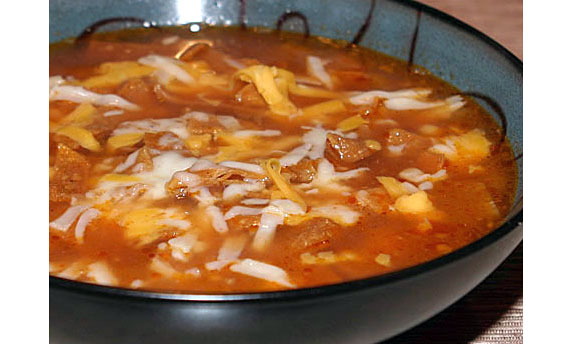 Suggestion:
See recipe for delicious garnishing ideas.
Chicken Garbanzo Soup is an exceptionally easy soup to prepare, and has absolutely delicious flavor. This tangy and mildly spicy soup recipe
features tender chunks of chicken, garbanzo beans and onions in a chicken broth seasoned with chili powder, garlic, cumin lemon juice and salsa. The type of salsa you add to the broth is entirely up to you and can be smooth or chunky or mild to spicy.
This soup on its own taste great, but it rises to a whole new level when it is topped with crispy fried tortilla strips, shredded cheddar cheese and a dollop of sour cream. You can also add chunks or slices of avocado if you like. Again, depending on your preference, you can make your own homemade tortilla strips while the soup is cooking, or simply crumble some prepackaged tortilla chips over the top (though I personally recommend homemade tortilla strips, because they have undeniable fresh flavor and the best crunch!).
Ingredients
Soup

2 skinless, boneless chicken breasts
2 tablespoons olive oil, divided
1 cup chopped onion
1 teaspoon minced garlic
1/4 teaspoon ground cumin
2 14.5-oz. cans chicken broth
1 cup water
1 chicken bouillon cube
1 15-oz. can garbanzo beans
1/2 teaspoon chili powder
1 tablespoon freshly squeezed lemon juice
1 cup smooth or chunky (depending on your preference) salsa



Garnish

4-6 corn tortillas (for homemade tortilla strips) -OR- 1 cup broken-up packaged corn tortilla chips
1/2 cup shredded Monterey Jack cheese
1/2 cup shredded cheddar cheese
sour cream (optional)
avocado slices (optional)
Directions
Homemade Tortilla Strips
While the soup is cooking, slice 4-6 tortillas into 1/2-inch strips, then cut those strips into thirds. Place a few paper towels on a plate and have ready nearby. Heat about 1 inch of oil in a small saucepan on high. Once the oil is hot, add the tortilla strips and fry, gently moving around with a large slotted spoon so they don't stick together and so the oil touches all sides of strips.
As soon as strips turn a light golden brown, remove from oil with slotted spoon and place on plate with paper towels. Sprinkle lightly with salt and serve as garnish for soup.
Soup
Heat 1 tablespoon olive oil in a large soup pot, then add chicken. Cook for about 3 minutes on both sides or until it appears no pink is left. Remove chicken and shred into bite-size pieces. Add remaining 1 tablespoon olive oil to soup pot, then add onions, garlic and cumin. Mix well and sauté for about 3 minutes. Return chicken pieces to soup pot, then add broth, water, chicken bouillon, garbanzo beans, chili powder, lemon juice and salsa. Stir to mix well, then cover and turn heat to low. Simmer for about 30 minutes.
Serve and top with Homemade Tortilla Strips or broken packaged tortilla chips, shredded cheeses and a dollop of sour cream (optional).
Other recipes you might like: