Potaje de Garbanzos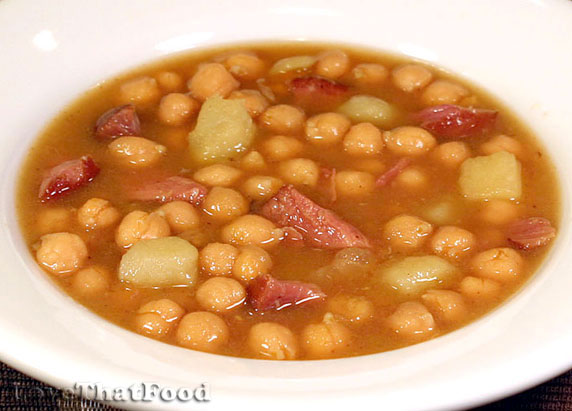 Tips:
Unwanted fat can be easily removed from the soup after refrigerating and skimming off the top.
Potaje de Garbanzos (translated to English means, "Chickpea Stew" is a Spanish and sometimes Cuban stew (or soup) that features chickpeas (garbanzo beans), potatoes and meat. While some Potaje de Garbanzos
recipes use Spanish chorizo, stewing beef or other meats, this chickpea soup recipe uses ham hocks (fairly small bones with pork meat attached) as the only meat ingredient. The ham hocks are simmered in water for 1 hour with the chickpeas, tenderizing the meat and filling the broth delicious flavor. Potatoes are added in the last 1/2 hour of cooking, during which time the leanest portions of the ham hocks are removed from the bones and added back into the soup.
A pinch of Saffron is used to season the broth, adding color and a unique flavor. Saffron is a spice derived from a flower, and is sold with other spices, though in small amounts. This chickpea stew recipe has a runny broth and with only a few easy ingredients, is truly delicious and will leave you feeling warm and satisfied.
Ingredients
1 lb. dry garbanzo beans
1 tablespoon salt (for soaking)
water (for soaking)


1 tablespoon oil
1 onion, chopped
2 ham hocks
1 1/2 quarts water (6 cups)
1 large Russet potato, peeled and cubed
1 tablespoon salt
1 pinch saffron
Directions
Pour dry garbanzo beans into a large soup or Dutch oven pot with 1 the tablespoon of salt and enough water to cover beans. Briefly stir to blend in salt and soak for a minimum of 12 hours (overnight soaking easiest).

After beans have soaked for a minimum of 12 hours, pour beans into a colander to drain. Rinse beans and set aside.

Heat oil in the soup pot. Once oil is hot, reduce heat to low-medium and add onions. Cook until tender (about 2-3 minutes). Add beans, ham hocks and water to onions. Stir briefly to combine and bring to a boil. Once boiling, cover and reduce heat to low. Simmer for 1 hour.

Once soup has simmered for 1 hour, remove ham hocks from soup pot and place on a cutting board. Remove the lean meat from ham hocks, breaking into bite-size pieces, and return to soup pot. Discard any unwanted ham hock parts. Add salt, pinch of saffron and potato cubes to soup. Stir briefly to combine, and continue to simmer for 15-30 minutes, or until potatoes are al dente (be careful not to overcook potatoes, because they will become mushy). Remove from heat and serve immediately.
Other recipes you might like: