Hawaiian Portuguese Soup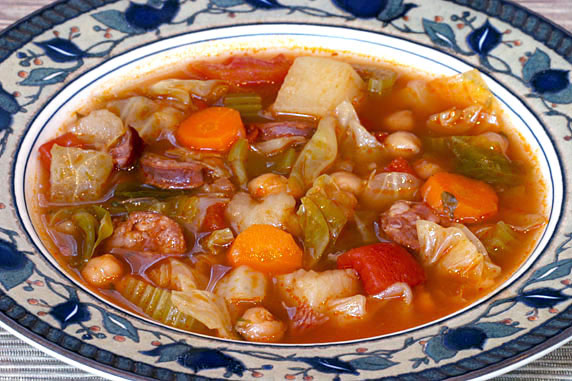 Tips:
Soup may be cooked in 2 parts if desired, simply by saving the last hour of cooking with the vegetables for the following day. Any other type of sausage may be used in place of Linguica, such as kielbasa, smoked turkey, chicken, pork or beef sausage, etc. Red kidney beans or pinto beans may be used in place of garbanzo beans if desired.
Suggestion:
Delicious served with a side of soft Hawaiian style rolls or bread or other
bread
.
This Hawaiian Portuguese Soup recipe gets its unique and colorful flavor from the wonderful combination of ingredients, as well as a hint of anise and cinnamon. (Note: The anise and cinnamon contribute to the Hawaiian flavoring of this soup, but if you're not wild about anise and/or cinnamon, you can certainly leave one or both of these spices out.)
Garbanzo beans (chick peas), ham hocks, linguica, potatoes, carrots, celery, stewed tomatoes and cabbage add beautiful color and delightful flavor to this soup. Dry garbanzo beans are soaked for an hour (this is considered the quick method - you may soak them overnight if you wish). The ham hocks are then added to the pot and the beans and ham hocks simmer for 2-3 hours, creating the foundation of the savory broth. The unwanted portions of the ham hocks are then removed, and the ham hock meat is returned to the soup pot along with all the ingredients shown in the photo above. (Tip: At this point, if you're short on time, you can store the soup in the fridge and save the last hour of cooking (with the remaining ingredients) for the following day). This soup recipe produces a large amount of soup (about 10-14 servings), so you can either store some in the freezer for a rainy day or cut the recipe in half for a smaller crowd).
Ingredients
1 lb. dry garbanzo beans
about 12 cups water
2 onions, chopped
1-2 ham hocks
1 tablespoon salt
2 stalks celery, chopped
2 carrots, sliced
2 potatoes, cubed
1/4 cup minced fresh parsley
1 small cabbage, cored and cubed
1 8-oz. can tomato sauce
1 2-lb. can stewed tomatoes
2 garlic cloves, chopped
3 Linguisa (Portuguese) sausages, sliced (or hot, spicy pork or beef sausage)
1/2 teaspoon ground anise
1/4 teaspoon ground cinnamon
1/4 teaspoon ground cloves
1/4 teaspoon ground pepper
Directions
Place beans in a large kettle. Fill kettle with water 3 inches above the level of the beans (about 12 cups). Bring to a boil, then remove from heat.

Cover and allow beans to soak for 1 hour. Add onions, ham hocks, and salt. Bring to a boil, then reduce heat to low. Partially cover and simmer for 2-3 hours.

Remove ham hocks. Remove any unwanted fat and bone from ham hocks and cut into large bite-size chunks. Return ham to pot. Add celery, carrots, potatoes, parsley, cabbage, tomato sauce, tomatoes, garlic and sausages and stir to combine. Season soup with anise, cinnamon, cloves and ground pepper. Allow soup to simmer for 1 hour and serve. Delicious with crusty bread.
Other recipes you might like: