Hawaiian Portuguese Soup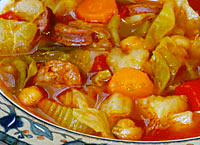 Tips:
Soup may be cooked in 2 parts if desired, simply by saving the last hour of cooking with the vegetables for the following day. Any other type of sausage may be used in place of Linguica, such as kielbasa, smoked turkey, chicken, pork or beef sausage, etc. Red kidney beans or pinto beans may be used in place of garbanzo beans if desired.
Suggestion:
Delicious served with a side of soft Hawaiian style rolls or bread or other
Bread
.
Ingredients
1 lb. dry garbanzo beans
about 12 cups water
2 onions, chopped
1-2 ham hocks
1 tablespoon salt
2 stalks celery, chopped
2 carrots, sliced
2 potatoes, cubed
1/4 cup minced fresh parsley
1 small cabbage, cored and cubed
1 8-oz. can tomato sauce
1 2-lb. can stewed tomatoes
2 garlic cloves, chopped
3 Linguisa (Portuguese) sausages, sliced (or hot, spicy pork or beef sausage)
1/2 teaspoon ground anise
1/4 teaspoon ground cinnamon
1/4 teaspoon ground cloves
1/4 teaspoon ground pepper
Directions
Place beans in a large kettle. Fill kettle with water 3 inches above the level of the beans (about 12 cups). Bring to a boil, then remove from heat.

Cover and allow beans to soak for 1 hour. Add onions, ham hocks, and salt. Bring to a boil, then reduce heat to low. Partially cover and simmer for 2-3 hours.

Remove ham hocks. Remove any unwanted fat and bone from ham hocks and cut into large bite-size chunks. Return ham to pot. Add celery, carrots, potatoes, parsley, cabbage, tomato sauce, tomatoes, garlic and sausages and stir to combine. Season soup with anise, cinnamon, cloves and ground pepper. Allow soup to simmer for 1 hour and serve. Delicious with crusty bread.