Bulgarian Meatball Soup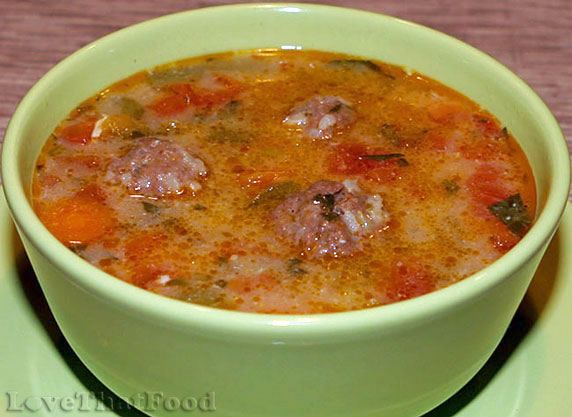 Tips:
Leftovers are especially delicious after being refrigerated overnight.
If you haven't yet had the opportunity to try Bulgarian food, this Bulgarian Meatball Soup recipe is a wonderful place to start. This unique meatball soup features a
powerful and fabulous-flavored broth with tender and delicious seasoned meatballs. Yellow chiles, green pepper, carrots, tomatoes and chopped fresh parsley give the soup broth vibrant color and outstanding flavor, while the meatballs, made with lean ground beef, rice and spices give this soup the perfect savory touch. Egg and lemon are added towards the end of the cooking process to thicken the soup and give it a light and tangy citrus flavoring and an intriguing translucent appearance.
This is a great soup to use as leftovers. After refrigeration, during reheating, the soup thickens slightly and some of the rice escapes from the meatballs, giving the soup a wonderful new texture. If you enjoy soups with powerfully delicious flavor that will warm you in more ways than one, this Bulgarian soup recipe is a must try!
Ingredients
Meatballs

1 lb. ground beef
6 tablespoons rice
1 teaspoon paprika
1 teaspoon savory
1/4 teaspoon salt
1/8 teaspoon pepper
1/2 cup flour (plus more if needed)



Soup

6 cups water
2 beef bouillon cubes
1/2 bunch green onions, sliced
1 large green pepper, chopped
2 medium carrots, peeled and thinly sliced
3 to 4 tomatoes, peeled and chopped
2 small yellow chiles, split and seeds removed
1/2 bunch parsley, finely chopped
1 egg
juice of 1 lemon
Directions
Meatballs
In a large mixing bowl, add ground beef, rice, paprika, savory, salt and pepper. Mix (using hands is best) until well-combined. Form meat mixture into 1-inch balls and place on a plate or tray. Put flour in a small bowl and roll each meatball in the flour, coating entire surface, returning each meatball to the dish or tray. Set aside.
Soup
In a large soup pot, add water, bouillon cubes, 1 tablespoon salt, 1 teaspoon pepper, green onions, green pepper, carrots and tomatoes. Cover and bring to a boil. Reduce heat to low and simmer for 30 minutes. Gently place meatballs into soup broth mixture and bring to a boil again. Reduce heat to low and simmer for another 20 minutes. Add yellow chiles and continue to simmer for another 40 minutes. During last few minutes of cooking time, add chopped parsley and more salt and pepper to taste if needed.
Just before you are ready to serve the soup, beat the egg with the lemon juice in a small bowl. Stir 2 tablespoons of hot soup broth into egg and lemon mixture, then slowly pour it back into soup, stirring constantly. Heat for another 3-5 minutes until soup slightly thickens. Remove the yellow chiles and serve.
Other recipes you might like: