Albondigas Soup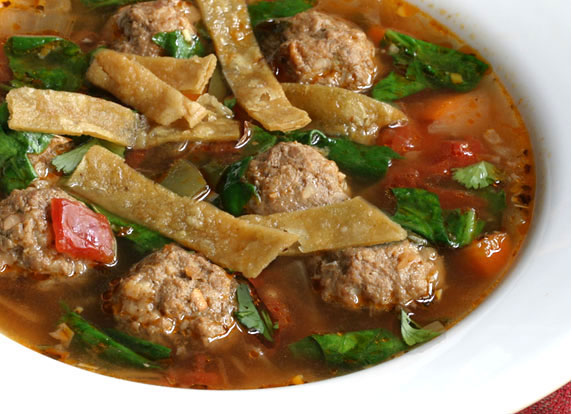 Tips:
Garnish with fresh chopped cilantro and fried corn tortilla strips if desired. Also delicious with a side of avocado slices
Suggestion:
May use all ground turkey instead of beef and pork (eliminate beef broth and use all chicken broth if you make meatballs with turkey).
Albondigas Soup is a brothy Mexican soup recipe made with seasoned meatballs, vegetables and an assortment of spices that give it a mildly spicy and full flavor that
will warm you up inside in more ways than one! This recipe features meatballs ("albondiga" is the Spanish term for "meatball") made with ground beef and ground pork mixed with rice and fresh bread crumbs, as well as a liberal dose of fresh garlic, minced onion and egg. The soup base is made with a combination of chicken and beef broth, and is decorated with sautéed carrots, onions, chipotle pepper, green bell pepper. Just before serving, an entire bunch of fresh spinach leaves are torn added to the soup, giving it even more flavor and bright color. To top it off, fresh chopped cilantro is then sprinkled over the top. This soup is fabulous when topped with fried tortilla strips, which are very easy to make (just slice up strips from a corn tortilla and fry until crispy in a little oil). A side of avocado slices also accompany this soup perfectly.
Ingredients
Meatballs

1/2 cup fresh bread crumbs
1/4 cup milk
1 lb. ground beef
1/2 lb. ground pork
1/4 cup rice
1 egg
1 tablespoon garlic, minced
1/2 cup minced onion
1/2 onion, minced
1/2 teaspoon cumin
1/2 teaspoon salt
1/4 teaspoon black pepper



Soup

2 tablespoons olive oil
1 large onion, chopped
1 green bell pepper, chopped
2 carrots, cubed
1 chipotle pepper, minced
2 teaspoons minced garlic
2 cans chicken broth
1 can beef broth
2 soup cans of water
1 14.5-oz. can diced tomatoes
1 tablespoon chili powder
1/2 teaspoon ground cumin
1 teaspoon oregano
1/2 teaspoon salt
1/8 teaspoon pepper
1 bunch spinach
fresh cilantro, chopped for garnish
fried tortilla strips for garnish (optional)
Directions
Meatballs
Soak the bread crumbs in the milk in a small bowl while adding other ingredients to meat. In a large mixing bowl, add ground beef, ground pork, rice, egg, garlic, onion, cumin, salt and pepper. Add soaked bread crumbs and rice and thoroughly mix all ingredients into meat (hands work best). Form into small balls (about 1 to 1 1/4-inch in size) and set aside on a plate near cooking area.
Soup
In a large soup pot, heat olive oil, then add onion, green pepper and carrots and sauté until tender (about 3-5 minutes), stirring occasionally. Add chipotle pepper and garlic and cook for another 30 seconds. Add chicken broth and beef broth, water, tomatoes, chili powder, cumin, oregano, salt and pepper. Bring to a boil, then reduce heat and cover and simmer for 15 minutes.
Carefully add meatballs to soup using a large spoon. Bring to a boil again, then cover and reduce heat and simmer for another 20 minutes.
While soup is simmering, remove stems from spinach, then rinse and tear leaves. Just before serving, stir in spinach and simmer until wilted (about 2 minutes). Sprinkle each serving with chopped fresh cilantro. If desired, top with freshly fried corn tortilla strips (see recipe instructions on how to make your own homemade fried tortilla strips). Delicious served with a side of avocado slices.
Other recipes you might like: