Meatball Stew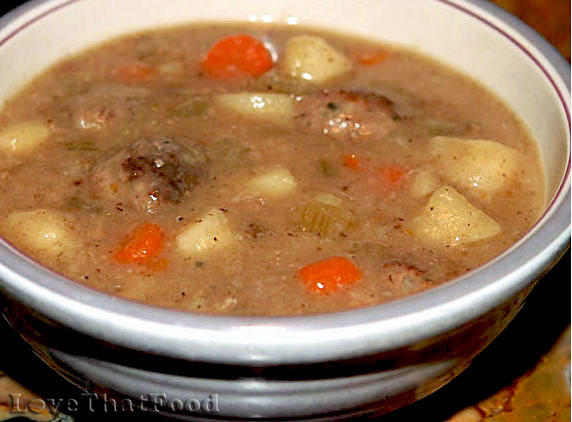 Cook Time:
1 hour, 45 minutes
This Meatball Stew recipe features seasoned ground beef meatballs, potatoes, celery and carrots in a savory thickened
broth, together creating a comfort food that warms and satisfies. The meatballs are seasoned with onion, garlic, Worcestershire sauce, cumin and fresh parsley and are mixed with egg and bread crumbs to help hold them together as they cook. The gravy-style broth derives its delicious flavor from the juices created by the meatballs as they cook, along with the combined flavors from vegetables and bouillon.
This is an easy stew recipe to make, and if not eaten at one sitting, will provide you with wonderful lunch or dinner leftovers that quickly reheat on the stove or in the microwave. I highly recommend serving this stew with bread so every last drop of the stew and gravy can be devoured!
Ingredients
Meatballs

1 lb. ground beef OR ½ lb. of each ground pork and ground beef
2 tablespoons bread crumbs
1 egg
2 tablespoons oil
1/2 onion, diced
2-3 cloves garlic, diced
1 teaspoon salt
pepper
1 tablespoon Worcestershire sauce
1/4 teaspoon cumin
2 tablespoon fresh parsley



Stew

1/2 cup flour (or as needed)
3-4 peeled potatoes
2-3 peeled carrots
2 stalks celery
2 beef bouillon cubes
water
Directions
Meatballs
Place meat in a large bowl and add onion & garlic mixture, salt, pepper, Worcestershire sauce, cumin and parsley. Mix with hands, large spoon or fork (hands work best) until thoroughly blended. Roll spoonfuls of meat mixture into bite-size meatballs (1 to 1 1/2 inches in diameter). Place flour in a small shallow bowl. Roll each meatball in flour and place on flat surface (baking sheet or large plate(s) work well), until ready to cook.
Heat oil in a large soup pot and gently add flour-coated meatballs. Brown meatballs for about about 10 minutes, turning every few minutes to brown surface of meatballs evenly.
Stew
Cut potatoes, carrots and celery into bite-size pieces. Heat oil in a large soup pot and sauté onions and garlic until tender (about 3-4 minutes.)
Place chopped potatoes, carrots and celery to the pot with the meatballs. Add just enough water to cover all ingredients. Add beef bouillon cubes. Heat to boiling, then reduce heat and simmer on low heat for 90 minutes (1 1/2 hours).
To thicken stew: About 10-15 minutes before end of cooking process, in a small heat-resistant bowl, add a small portion of soup, then add flour and whisk well until a smooth and runny paste is formed. Add a little of the flour and soup paste to stew, stirring gently and constantly until blended into stew. Continue gradually adding flour and soup paste to stew until consistency is desired. Season to taste with salt and pepper.
Other recipes you might like: