Rosy Beef Stew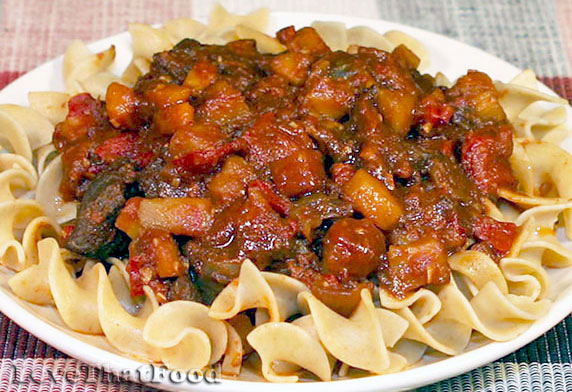 Cook Time:
5-8 hours (depending on slow cooker temperature)
Tips:
To save time, chop vegetables a day in advance before cooking and store in refrigerator.
Rosy Beef Stew derives its name from the rosy red color of this slow cooker dish as well as its unique flavor. This stew is different than traditional beef stew not only in color and flavor, but in consistency. Rosy Beef Stew has a thicker consistency than the traditional beef stew and is
served over egg noodles much like beef stroganoff. This unique stew is made with diced carrots, potatoes, red pepper, parsnips and pearl onions with bite-size chunks of stewing beef (if preferred, you may use pork or chicken instead of beef), and is cooked for 5-8 hours in a slow cooker, allowing the flavors to blend and the meat to become wonderfully tender.
If mornings are rushed for you, you can easily chop up the vegetables and cut the meat the day before you plan to cook this recipe, leaving only the simple task of putting the ingredients in your slow cooker, setting the temperature and turning it on in the morning. Depending on your time schedule, you can cook this dish on low-medium for about 8 hours, or on high for about 5 hours. A side of Garlic Bread or Garlic Parmesan Breadsticks goes wonderfully with this dish, allowing you to mop up the last bits of that rosy sauce!
Ingredients
2 lbs. beef stew meat, cut into 1-inch cubes
1 teaspoon salt
1/2 teaspoon ground pepper
10 pearl onions, quartered OR 1 small onion, chopped into bite-size pieces
1 tablespoon minced garlic
1 tablespoon paprika
1 teaspoon caraway seeds
1 cup diced (1/2-inch pieces) carrots
1 cup diced (1/2-inch pieces) parsnips
1 cup diced (1/2-inch pieces) red bell pepper
1 cup diced (1/2-inch pieces) russet potatoes
1 15 oz. can tomato sauce
1/4 cup beef broth
1/4 cup freshly squeezed lemon juice
1/4 cup brown sugar, packed
1 lb. cooked egg noodles
Directions
Place all ingredients except noodles in slow cooker (or crock pot) and stir well to combine. Cover and cook on medium-high heat for 8 hours or high heat for 5 hours or until meat is very tender.

In last 10 minutes of cooking time, cook noodles according to package directions. Spoon stew over cooked noodles in shallow bowls.
Other recipes you might like: