Pasta with Beef and Red Wine Sauce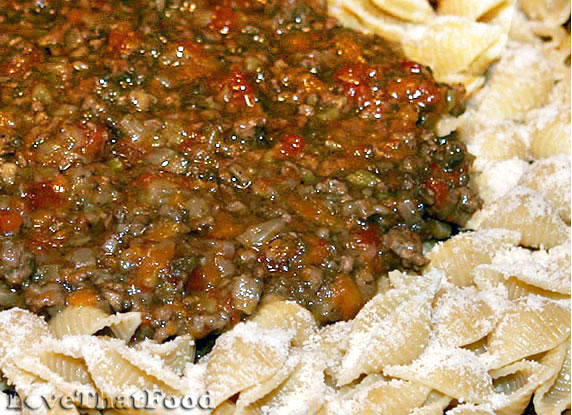 Yield:
6 servings or 4 cups of meat sauce
Tips:
Ground veal may be used instead of ground beef, if desired.
This Pasta with Beef and Red Wine Sauce recipe features an elegant French sauce made with lean ground beef, diced vegetables and red wine. The secret to the amazing flavor and tender texture of this French meat sauce begins with the unique
combination of diced vegetables, and how these vegetables are first sautéed together in olive oil, tenderizing them and releasing their flavors so they can mingle together. The ground beef is then added to the sautéed vegetables to cook and soak up those wonderful flavors. The final touch of magic occurs during the two-hour simmering process, whereby the meat is tenderized and the exquisite flavors of the vegetables, wine and beef can thicken and continue to merge together.
The above photo shows this ground beef sauce poured over bed of pasta shells topped with a generous amount of grated Parmesancheese. Pasta shells are the recommended pasta shape for this dish, because they are able to capture and hold much of the sauce in each shell once the sauce and shells are mixed together.
Ingredients
medium pasta shells
2 tablespoons butter
1/4 cup olive oil
1 1/2 cups onion, diced
1 carrot, grated
1/2 cup celery, diced
1/2 lbs. fresh mushrooms, diced
1 lb. ground beef
2 cups skinned tomatoes, diced
2 tablespoons flour
1/4 cup dry red wine
1 cup beef broth
salt and pepper to taste
Directions
Place butter and oil in large skillet and heat until sizzling. Add onions and sauté for 3 minutes. Add carrot, celery and mushrooms and cook, stirring frequently, for 5 minutes. Stir in ground beef and cook, stirring constantly until well broken up and no pink color remains. Stir in tomatoes. Sprinkle flour over beef and vegetable mixture and stir to thoroughly combine. Add wine and beef broth, then stir to combine. Season to taste with salt and pepper. Simmer, uncovered over low heat for about 2 hours. Sauce will thicken as it simmers.

Serve over cooked pasta shells and garnish with freshly grated or prepackaged Parmesan cheese.
Other recipes you might like: