Caesar Salad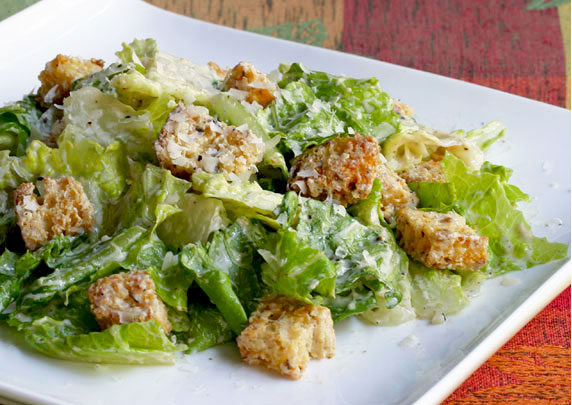 Tips:
Tomato chunks, slices of chicken and/or other ingredients can be added to this salad, if desired.
Caesar Salad is a beautifully simple salad with lively flavor, usually made up of only romaine lettuce leaves and croutons, and is topped with some freshly grated parmesan cheese and freshly ground black pepper. This popular salad doesn't really require
any other ingredients to entertain your taste buds, especially when it is tossed with this tangy Caesar Salad Dressing recipe.
Caesar dressing recipes can vary quite a bit. Some are creamy while some have a more translucent consistency. Many are made with anchovy paste (or anchovies) and may also include some raw egg (though this recipe does not include raw egg). The dressing for this Caesar Salad is a creamy version and has vibrant and distinct flavor. You can add anchovy paste if you like, but it is entirely optional, as this Caesar dressing tastes incredible with or without the anchovy paste. In fact, the Worcestershire Sauce alone gives this dressing a flavor that has subtly resemblances anchovy. Though Casear Salad is traditionally served with just crisp romaine leaves and croutons, you can certainly add other ingredients you enjoy, such as tomatoes and/or chicken
Ingredients
Dressing

1/3 cup plain yogurt
2 tablespoon lemon juice
1 1/2 tablespoons olive oil
2 teaspoons red wine vinegar
2 teaspoons Worcestershire sauce
1 teaspoon Dijon mustard
1/2 teaspoon pepper
3 garlic cloves, minced
1 teaspoon (1/2 tube) anchovy paste (optional)
1/3 - 1/2 cup Parmesan cheese (or adjust to personal preference, using more or less)



Salad

(Note: Use as many ingredients as needed, depending on amount of servings and preference.)
romaine leaves
croutons (homemade or store-bought)
Parmesan cheese, grated
Directions
Dressing
In small mixing bowl, whisk together all dressing ingredients until thoroughly blended. Cover or pour into a container with lid and store in refrigerator until ready to use.
Salad
Tear romaine leaves into bite-size pieces and rinse under cold running water , then dry using a salad spinner or by gently pressing between cloth or paper towels. Transfer leaves into a large mixing bowl and add croutons and Parmesan cheese. Lightly toss to combine. Add as much salad dressing as you prefer and toss until evenly coated. Place on serving dishes and top with more freshly Parmesan cheese and freshly grated black pepper (coarse is best) (again, using as much as you prefer).
Other recipes you might like: