Antipasto Salad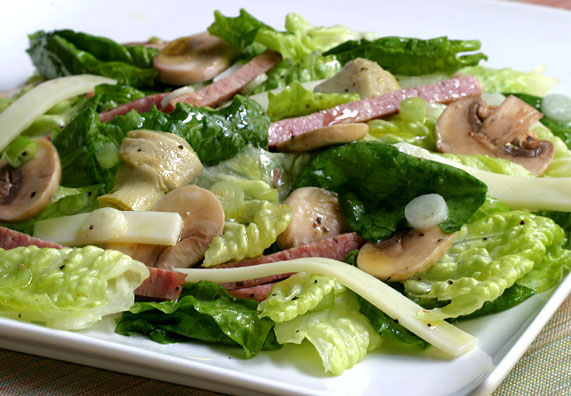 Tips:
Deli sandwich-style slices of Provolone can be used.
Suggestion:
Serve as a salad side with a main course or as a light lunch or dinner. If desired, top with Parmesan cheese.
Antipasto Salads can be made using quite a variety of ingredients. Often, they include leafy greens, deli-style meats, cheese, mild peppers and perhaps a few other vegetables or even pasta. This Antipasto Salad recipe uses crisp romaine leaves,
fresh spinach leaves, fresh mushrooms, marinated artichoke hearts, sliced green onions and thin strips of summer sausage and provolone cheese. These ingredients are then mixed with a simple and delicious homemade Italian-style salad dressing made with extra virgin olive oil, white or red wine vinegar, seasoned salt, dry mustard and coarsely ground pepper.
Antipasto (the plural term is "antipasti") means "before the meal," and refers to the first course of a formal Italian meal, consisting of ingredients similar to those used with this salad (only without the leafy greens), as well other cured meats and cheeses, mild peppers, anchovies and more. In short, Antipasto Salad simply contains some of the foods typically found in antipasti dishes and combines them with one or more leafy greens or pasta. This Antipasto Salad salad can be served as a light lunch or dinner or as a salad side to a main course
Ingredients
Dressing

1/2 cup olive oil
1/3 cup white or red wine vinegar
1/2 teaspoon seasoned salt (or table salt)
1/2 teaspoon dry mustard
1/8 teaspoon freshly ground black pepper



Salad

1/2 lb. summer sausage, cut into thin strips, 2-3 inches long
4 oz. Provolone cheese, cut into thin strips, 2-3 inches long (can use sandwich slices)
1 bunch spinach, washed and torn into bite size pieces
1/2 head romaine lettuce, washed and torn into bite-size pieces
1/4 lb. mushrooms, sliced
1/2 cup quartered marinated artichoke hearts
2 T cup sliced green onion
Directions
Dressing
In a small mixing bowl, whisk together oil, vinegar, season salt, mustard and pepper. Set aside while preparing salad (recipe follows).
Salad
In a large mixing or salad bowl, combine sausage, cheese, spinach, lettuce, mushrooms, artichoke hearts and green onion. Toss briefly. Pour dressing over salad and toss until evenly coated. Serve.
Other recipes you might like: